First of, let me say that it is fantastic to have McCowan back. Man the drive home on the Fan 590 is pretty week without him. Having said that, I am continually disappointed with the his choice of a co-pilot, specifically Jim Kelly. McCowan has followed Carson in his choice of sidekicks. Kelly ads about as much value to the show as McMahon did to the Tonight Show.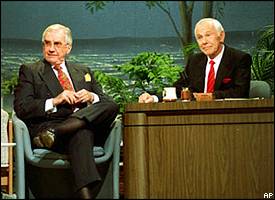 Kelly is an improvement over Cox, who was just so freaking negative (much like McCowan). Stephen Brunt is good when he is on, but they ramble so much about nothing its hard to listen. Kelly is pretty brutal. With the exception of kissing McCowan's butt, which he does at least 10-20 times per show, he ads no value. You don't miss him when he isn't there and you never think to yourself, hmmm, I wonder what Jim Kelly would say about this (which I do sometimes think about Brunt)
I will say that I did like Doug MacLean when he was on last week. I thought he was balanced, didn't kiss too much ass and brought good insight. The only time I thought he was off base was when he opined that Roy Halladay shouldn't have told the media that he wants to win, and that playing for the jays was a little like groundhog day, instead Halladay should have gone to JP or Godfrey… MacLean's GM insight is great, we don't get that type of insight down the dial at 640 form Watters, but in this case he was bitching for the sake of bitching. Halladay said that which we want every athlete to say, I want to win….wouldn't it have been nice for the Muskoka 6 to have had that opinion?
Come on Bobcat, you can do better then Kelly, get a quality co-host on a regular basis…