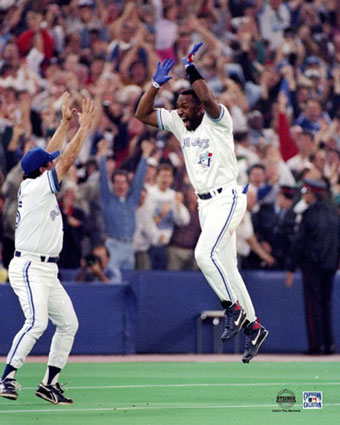 Who are the all time Blue Jays? Where does your favorite player fit? Paul Francis Sullivan, a Boston Red Sox fan has compiled a list for every major team of the best, the best home grown and the best acquired. Sully's Toronto list is good. It is really good. In what is going to be a lousy season it's nice to focus on something very positive, like our past.
Here are a few snippets:
"STARTING CATCHER
PAT BORDERS
He played until he was 42 years old and never was an All Star nor a Gold Glover. But he will always be a hero in Toronto for outshining all of the All Stars and future Hall of Famers on the Blue Jays and Braves during the 1992 World Series."
"STARTING SHORTSTOP
TONY FERNANDEZ
There was a lot of debate in 1987 about who was the MVP of the American League. George Bell won but several thought Alan Trammell, whose Tigers caught and passed the Blue Jays in the last week of the season, deserved it.
Still others argued that Tony Fernandez, who didn't have Bell's gaudy offensive numbers, was actually the Blue Jays' MVP. His .322 average and .805 OPS in the #3 hole were impressive as was his dazzling defense.
When he went down to an injury on September 24th, the Blue Jays had a 1 ½ game lead with 9 games to play. Fernandez didn't return and the Jays lost their last 7 games, including a 3 game sweep by the Tigers."
"DAVE STIEB
Is Dave Steib one of the most underrated pitchers of all time?
Did he pitch in that era of stud aces that just didn't put in enough ace seasons to get into the Hall of Fame?
Is he on the Bret Saberhagen/Fernando Valenzuela/Jack Morris/Doc Gooden/Orel Hershiser/Dave Stewart list of great pitchers who will always be on the outside of Cooperstown looking in?
Steib had 4 or 5 Cy Young worthy seasons, was a seven time All Star, once led the league in ERA, once led the league in shutouts, finally threw a no hitter after several near misses and consistently found himself among the league leaders in strikeouts. Not a Hall Famer perhaps, but there's no shame in being called one of the best pitchers of his time!"
"JIM CLANCY
Evidently there is a character on Ghost Whisperer named Jim Clancy. I wonder if mentioning the former Blue Jays pitcher on this list will divert some Ghost Whisperer traffic to Sully Baseball.
Clancy was a super durable pitcher who consistently gave the Blue Jays 200 some odd innings. In 1982 he started 40 games, completed 11 and won 16 of them to be named to the AL All Star Team.
His win totals weren't always sterling but he also had a ton of bad luck. In September 27th 1987 he started a critical game against the charging Tigers. He gave the Jays 7 shut out innings in a duel with Doyle Alexander. The Tigers tied the game in the 9th and Alexander pitched into the 11th and the Jays lost in 13. Tough no decision!
(Now that I think of it, I bet I would get more traffic if I mentioned The Ghost Whisperer and actually say Jennifer Love Hewitt. If I said she was nude, my traffic would go off the chart! But I won't.)"
Read more here…Take a few minutes…it's good stuff