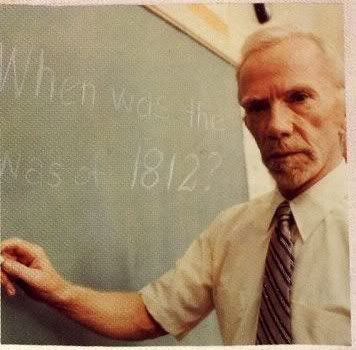 So folks, let's review what we have learned from Toronto Maple Leafs General Manager Brian Burke:
1. Antropov isn't going to be offered an extension, time for a change of scenery…
So what are we to make from this bold statement? Well, there are a couple of things to consider. Burke could be trying to motivate his player. Irrespective of what the end result is, Burke simply could be trying to light a fire under Antropov's A$$. It worked for Ron Wilson for Jason Blake and it worked for Matt Stajan. Maybe Burke wants to take some of the bad cop reputation away from his coach. Burke could also be speaking the truth. However, dumping on a guy isn't going to increase his trade value as we head toward the deadline. So while I think there is absolute truth in Burke's words I am convinced that this is an attempt to motivate the hell out Nik. If you want to stay here, show us you can play like the top forward Cliff said you are. Antropov is a UFA this off season. He needs to perform at a high level in order to get the contract his agent has likely been promising him is forthcoming. So Nik either picks up the pace and gets dealt to a contender or picks up the pace and earns big bucks. The alternative isn't good for Antropov. The downside from Burke's comments unlike what you may read here are pretty minimal..
2. All our waiver eligible guys in the minors will get called up
Although I never really believed it, there is a line of thought out there that players don't want to play in Toronto. The reasoning is that despite the losing, the franchise has not been run in a manner in which players would aspire to be Maple Leafs. I think Burke is certainly trying to clean up that image. By doing right by deserving guys in the minor players won't look at signing 2 way deals with the Leafs as a trip to minor hell. The lesson is, if you get sent to the Marlies and you work hard you will get a shot, either here or on waivers with someone else. I think that is terrific. It should strengthen the Marlies and the Leafs. If Mark Bell and others are working their butts off, why not reward them with either a sniff in the NHL or a shot at being claimed. It pushes players to work harder on the pharm and provides the necessary motivational carrot that we all need from time to time. It also pushes the guys currently on the roster. If you don't play well a hungry guy from the minors is coming up..
3. Kubina and Kaberle won't be forced to waive their NTC
This is a real beauty by Burke. He holds the hammer here. It's classic. He encourages the players to submit a list of 10 teams they will accept a trade to so to create the appearance of a choice in where they may play next year. Burke hasn't said I will trade that player to one of the teams on their respective list. All it means is that if Burke get's an offer he likes from one of those teams he has an ok in hand that the player will go(unlike when Cliff allegedly dealt Kabs last year). If Burke doesn't get an offer he likes he can deal with all the teams in the league at the draft for either or both of Kubina or Kaberle. While JFJ was a total clown, and I would so much rather not had had either guy have a NTC, at the very least he has this small window where the NTC disappears to hang his hat on….like i said, at least…. Lastly, the honoring of the NTC is just another attempt by Burke to change any negative perception of the Leafs organization around the league. Berger and others like to say all the time how forcing players to waive their NTC or putting them on waivers would have an everlasting negative effect on the ability to sign players into the future. Well, moves like this can only help improve the reputation. Add the handling of Cujo for the Buffalo game? I mean look, the team let a veteran player stay home and be with his kids, rather then go on the road for a game and sit on the bench as a backup. Who wouldn't want to play for a team that does that??!! I don't wish an injury on any one person. However a timely injury to a teams top defenceman would help us out BIG time.
4. It's up to Vesa if he is the goalie of the future
Another great motivating tool by Burke. One game doesn't make an example. So the fact that Vesa played well against the Habs isn't the least bit meaningful unless it is the start of a series of great games. Remember the complaint isn't that he can't play well, it's that he can't put together a string of games like the one he played in Montreal (a string is more then 2 by the way). If he keeps pushing Vesa's buttons and he gets really hot, he either has a hot goalie to trade or one to keep. On the flip side, Vesa snaps, mentally speaking, and can't put together a string of one good period let alone 3 games. What's the loss, he either waves him or gulp suffers with bad goaltending to the bottom of the standings I mean top of the draft.
5. Would like to extend Dominic Moore
Sales 101- talk up the assets you want to move. Count the guys Burke has praised since he took over. Forget Schenn, mostly because he is young. I can really only think of 2. Moore and Blake (of late). Now, Blake was in Wilson's dog house and successfully worked his way out. I have to think that Burke would love to deal Blake and the more he and everyone else talk about how awesome he has been playing the more he hopes someone gets desperate and wants to pull the trigger on a deal for him. Besides the positive reinforcement on Blake can't be bad either. Then there is Moore. The more Burke says he wants to sign/extend/reward Moore the more he hopes others are listening. Dreger has said he hears teams ask about him quite a bit. Well, the more Burke says we want to keep him, the higher it should drive the price up. Just like the Antropov dis drives down the price, the "I want to keep Moore comments should increase the value." The only pitfall is with regards to money. If his agent gets a fat head and says hey, you told the world how great he is, you should pay him x…well then Burke made his own monster. It says here that won't happen and even if it does it's a risk worth taking. Dominic Moore as good as he has been is 29 years old. In 3 years when the Burke is going to want to contend is going to be 33. Not ancient, but something to consider. He would be a guy worth keeping in the short term because he plays Ron Wilson hockey. Worth keeping, but not essential….If someone is willing to over pay…..
As an aside… we bash him all the time(even above), but a hat tip to Howard Berger is deserved for his interview with Brad May that no one else had:
"After the game, however, May had a gleam in his eye when I approached him for a quick interview. He was being hurried along to the Leafs' team bus for a trip to Pierre Trudeau Airport and a flight down to Fort Lauderdale. But, Brad wasn't going to leave without getting something off his chest — taking dead-aim at Guy Carbonneau, the coach of the Canadiens.
"Carbonneau put Georges out there… sent Georges out there, and he actually thought we were going to back down," May contended. "I know all about that guy, and I'm talking about their coach. You know what? It's not going to happen. It's been 19 years [in the NHL] Guy… keep sending them out."
Asked why he felt so certain that Carbonneau had instructed Laraque to fight, May replied: "Guy just doesn't have any idea what's it's like to be a tough guy. The toughest guy in his family is Brendan Morrow, his son-in-law, who's an unbelievable player and very tough. Guy Carbonneau [used to be] incredibly tough blocking shots in the NHL, but never in a fighting role. He knows nothing about it. There's respect to be shown in a situation like that, but he wanted to set the tone and I was happy to be a part of it."
That is the type of work we used to get from Berger. It would be nice to see more of it. Good stuff Howie.