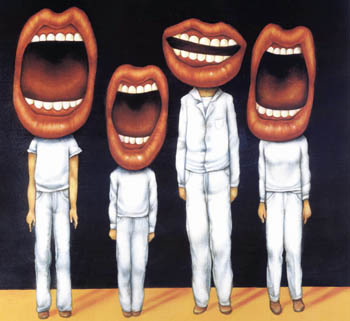 Sounds like Matt Gilroy is going to sign elsewhere. Word I am hearing is that Burke wouldn't give Gilroy a 1 way deal and that other teams, including the Canucks where willing to give him a one way deal. Not over yet, but the fat lady is warming up.
Similarly, sounds like Burke is in the lead for signing the Monster. Nothing is imminent, but I was told that things would really have to come off the rails for him not to sign in Toronto.
Darren Dreger is reporting on his blog that Burke has already called the GM's of the Tampa Lightning and NY Islanders. Dreger suggests that Luke Schenn would almost certainly be a part of the ask from either team in exchange for either of the top two picks. Addition by subtraction???? Stay tuned.
If you want to hear some good old fashioned radio, tune into this as Brian Burke takes Richie Rich Maclean to town! MacLean questions Burke on how in god's name he thinks he can get to either number one or two and Burke rakes him over the coals. Maclean can't be as dumb as he comes across in the in the interview. He has been better then this and I can't imagine he was too pleased with this performance. Burke, on the other hand was fantastic.
[podcast]https://torontosportsmedia.com/wp-content/uploads/2009/04/brianburke-gp-20090415.mp3[/podcast]

Burke was then on with Brady and Watters:
Here is a rough, as in very rough review:
He is watching the Marlies playoff series
Pogge: hopes he is ready to go, that is his wish and desire, still think he has special attributes, hopes he gets it right
Talked to Garth Snow about trading for the number one pick. He feels that from now on the discussions will be on a closed door basis- trying to do deal quietly. Think she has a shot and will take it. He has no intention of encouraging JT not to go somewhere… JT is very different then Lindros. With Lindros, question was how soon he would be top player in the NHL- Lindros was a rare specimen in 30 -40 years. Not same expectations on JT. Will be very good player. As for why he thinks he can make a trade up, he feels that some good young players emerged this season, he has some depth, and picks. He is not so sure, with cap room and cash in hand , that there aren't options that will make sense to either Tampa or the Islanders. Taking bad salaries from Tampa is a possibility. He won't divulge who and when he talks to anyone about this. Burke wouldn't have said what he did if he didn't think it was realistic to get it done. Going public is necessary because of what he has done before.
Matt Gilroy: didn't take to agent today. Nonis hadn't either. Silence not a good sign. Offered 2 way deal, told other offers were 1 way deals.
Jonas Gustavsson, very good meeting. Agent is a good guy. Never met him before. Going to Switzerland on Sunday, will meet with him next week. He is NHL ready, not coming over to go to the minors. Could battle Vesa for the starting position and the backup role.
Would consider adding additional picks beyond the number 7 pick. When you go into draft, he is trying to move up, would move down too… the draft is a fluid situation, have to work the phones and stay on top of things.
So, there you have it. Amazing, by the way how much PTS misses Mccown when he is away. Kelley hosted today and man was it weak. Yesterday, i didn't hear it but lots of you did and emailed me about cricket and auto racing being featured. Don't think Mccown would stand for that…