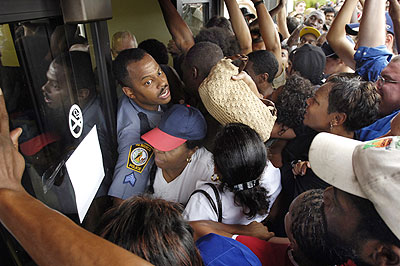 Well, let's hope that Brian Burke has his list and his wallet as it is that time of year. Here's hoping that he fares better than those in the US on black Friday who got trampled too.
It is going to be an interesting day for sure. Watter's thinks it could be dead. I am not buying it. I think that despite all the talk the NHL GM's wont be able to help themselves and the top dogs will EAT tomorrow. The littler guys may get crushed.
What a wild night it has been already. The teammate killer got dealt to Edmonton then had the balls to reject it. In case you missed, their was a hilarious article in an Ottawa paper today about how unfair his parents think he has been treated publicly for demanding a trade. Do these people live on MARS? He's a traitor and a turncoat. I love the part in the article where they say, how can people make it so personal when he gave up three summers to play for team Canada? Are you fucking nuts?? Here is one Canadian who wishes he was serving time as opposed to representing me! I am no Sens fan, but having said that, I am one hundred percent behind Bryan Murray on this one. Danny should be left on the pine. He wants to go somewhere where he will be appreciated? How about the KHL.
As for the Leafs, its kind of funny. The press fully expect Burke to go balls out for the Sedins. Hell Damien is all for it, and Howie says not so fast. Fascinating stuff. One can easily see where this is headed. Should Burke have a big day tomorrow Howie is going to call it a bandaid. The usual Maple Leaf quick fix. Is he wrong? No idea. I want to see the numbers first. Anything that handcuffs us down the road should be avoided. Line of the day goes to Mike S. who said that if Gainey is willing to take Scott Gomez, perhaps we can interest him in Jason Blake!
For me, let's hope it's an exciting day full of good moves by our team. WE fucking deserve it don't we. Pray for good weather as the 2nd annual TSM FA Pool party will be ongoing. Look for updates throughout the day. In my ideal world all dead way is thrown overboard tomorrow- especially that which brings a return- I won't be surprised if Moore is back and the Sedins (I will be crying) join him. Here is also hoping that Burke Kicked the Monster hard in the BALLS
TSM