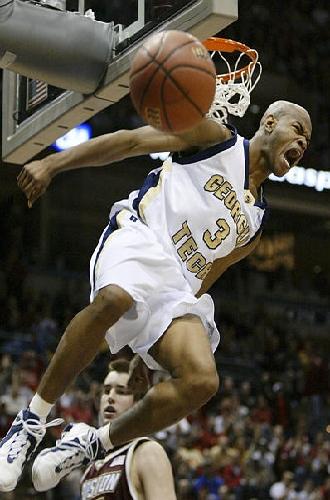 According to Jarrett Jack, he will be a Raptor, officially today, as the Indiana Pacers are passing on their rights to match the offer he accepted by YOUR Toronto Raptors.
"The Indiana Pacers will not match the four-year, $20 million offer the Toronto Raptors made to restricted free agent Jarrett Jack, Jack told The Indianapolis Star in a telephone interview late Sunday night.
"It took a minute, but I was able to secure a contract for four years," Jack said. "I'm looking forward to playing with Chris (Bosh) again. It will be like our freshman year (at Georgia Tech) all over again."
Advertisement
The Pacers had until today to make a decision."
Good news for us up here. He is a Chris Bosh boy and while there is no guarantee that this makes Bosh stick around it certainly can't hurt.
"Jack said he is scheduled to fly to Toronto today and a news conference is planned for Tuesday."
This should be one worth watching folks as he is really colorful, as evident by his interview with Brady and Watters.
"Jack, who will back up starting point guard Jose Calderon and also play some shooting guard, averaged a career-high 13.1 points as well as 4.1 assists last season.
"I wanted to be a Pacer come next season," Jack said. "I'm indebted to coach (Jim) O'Brien for what he did for me last season. Not only him, but also (team president) Larry Bird and (general manager) David Morway. They put me in the position to play well and get a long-term contract. I'll always be indebted to them."
More from DL later on this (I hope) and thanks to the Indianapolis Star for this!