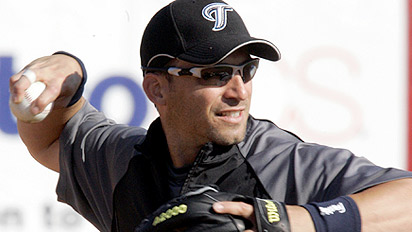 Yes, today is the day we find out whether Doc will be sticking around for the rest of the year. I suspect he will, though there's still time for the Jays to make a deal. Even if his value is reduced by keeping him, Toronto can always deal Halladay next year, or during the offseason, and it'll be fun to keep watching one of the game's best pitchers if he stays.
What bothers me is the lack of talk on the Marco Scutaro front – there have been whispers, sure, like this from Bob Elliott:
"The Minnesota Twins still are chasing Marco Scutaro since they were unable to land Pittsburgh Pirates' Freddy Sanchez, sent yesterday to the San Francisco Giants."
To me, this is the most obvious trade for the Jays to make.
Scutaro, a career backup, is having a fantastic year. His contract is up at the end, and the Jays are no longer contenders.
So…trade him, right?
Toronto can get something decent for Scutaro, who's value will probably never be higher. They can also resign him if they want after the season, when he'll be an unrestricted free agent. I really don't understand how management can justify keeping the shortstop – Unless they want to sell the "we're still in the race" idea that is clearly bullshit.
Likewise, but to a lesser extent, JP has got to find a deal that involves Scott Rolen. Well, he doesn't HAVE TO, considering Rolen makes $11 million and has a no-trade clause, but he damn well better be trying.
Again, Rolen is having a fantastic season, on an expiring contract. He has value to teams that can afford him, and it's a deal that should be explored.
Basically, I'm saying we've been talking about the wrong guy for the past few weeks. Yes, Halladay would fetch a nice haul, but he's hardly the most logical guy to trade. JP has said a Halladay deal might lead to more, but who is he trying to fool??
Even if the Jays keep Doc, they are not in the race. Absolutely, positively not.
Make the logical, sensible deals, please, and get some value.
It sure beats yapping to the press everyday about a guy you probably won't trade anyway.
-DL