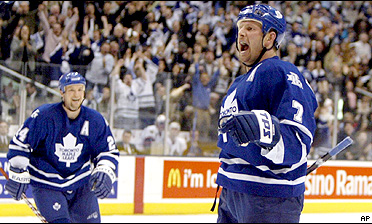 One of my favourite Sunday reads is the Sunday Boston Globe. I know there are those who love the NY Times, or other Sunday papers, but ever since I was in Vermont, I fell in love with the Sunday Globe. This started long before every paper was available for free on the internet and was back when the Blue Jays actually played meaningful baseball games. We would all get the Sunday Globe delivered so we could read Peter Gammon's column and then I could read Kevin Paul Dupont and Nancy Marrapese-Burrel on the NHL and the Boston Bruins. So, it is still a Sunday habit to point my browser every Sunday to the Globe to see what is what in the world of sports.
This Sunday, Kevin Paul Dupont has interesting tidbits on the Toronto Maple Leafs. He starts of first with the Leafs offering Jason Allison a tryout:
"I told Jason when we talked that I don't remember him being the most fleet afoot guy when he last played,'' said Burke. "I've seen what he can do out there with the puck on the half-wall. It's a good bet that he can still do that. But the challenge, especially after not playing for three years, could be the legs.''
Allison, though, never made his bacon off overall speed or start-up acceleration. Even in his Hub of Hockey heyday, he lived off spatial awareness, touch, and getting in front of the net when necessary."
For my two cents, there is nothing to lose by inviting the guy to camp. Having said that, if he is going to offer someone a tryout on a complete whim, I would have preferred it be a guy like Gary Roberts. I don't know if he could even do so given Robert's last contract status…but I am just saying. I have no fond memories of Allison's first Maple Leaf stint and certainly wasn't enamored enough to want for another round.
I love what Steve Simmons wrote on the subject in today's Sun ( a paper I used to love to read when there was more than 1 or 2 writers worth reading):
"Brian Burke wants belligerence and truculence on the Leafs and the invitation of Jason Allison to training camp is further proof of that. A lot of people who have played with Allison in the past will tell you he has attitude, most of it off the ice … Allison, by the way, had two speeds when he last played in the NHL: Slow and slower … One more Allison question: If the Leafs are going to invite him, why not Jeff O'Neill, Alex Khavanov and Aki Berg?"
If Allison's reputation is as bad as Simmons suggests you have to wonder what the hell Burke is thinking. As for others from that era of Leafs that Burke could go after, Eric Lindros seems to be dying to be back in the news again no?
Dupont pays Burke one hell of a compliment later in his piece in a blurb about the NHLPA mess:
"Kelly is, without a doubt, one of the four smartest men around the NHL, along with commissioner Gary Bettman, his deputy Bill Daly, and Leafs general manager Brian Burke. Say what you will about their individual styles or decisions, they understand the business of the game and somehow keep it relevant, which is no mean feat."
Coming form a writer like this is pretty impressive. It tells you that Burke has the respect of those who know the game and have covered it for years. Maybe, just maybe MLSE got this hiring right. The proof will be in the pudding for Burke, not this year, but pretty soon there will have to be the makings of some progress towards the playoffs and beyond. Which brings me to this question for you, it's opening night, Burke is sitting in the press box, is there a sense of relief, anticipation, angst???? What do you think. He has had a pretty busy off season. Many pieces have been changed. No one has any clue how they will fit together and no, one game doesn't make a season. I wonder what will be going through his mind 10 minutes before the first puck is dropped.
Now, onto our poll: