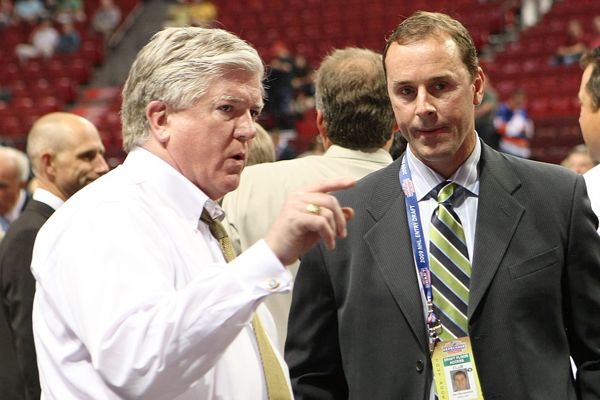 It's amazing how everyone interprets how things are said. I watched Brian Burke's media scrum today with resepct to Phil Kessel. I walked away thinking he is either going to trade for him or if he can't he is going to sign him to an offer sheet. Multiple media outlets had a completely different interpretation. For the record, here is what Brian Burke said:
"Well, I am not sure what is going to happen next. Everyone knows we reacquired a draft pick. Puts us in a position to effect the chain of events with certain players, It's kind of a day to day thing i don't know what the next step will be there, it's clear to everyone we are trying to upgrade our forward group and we will see what happens"
Question from a media member: "Are you ready to make an offer to Phil kessel?"
Brian Burke "We are not going to do that right now, that isn't the plan right now. I haven't talked to Peter Chiarelli.(Boston Bruins GM) since I acquired the pick, I did speak to him before I acquired the pick so he knew what I was going to do. …. I don't contemplate an offersheet on Phil Kessel at this time."
The headline from the Globe and Mail, curotusey the Canadian Press "Burke denies Leafs pursuing Kessel " the byline from the story "GM quashes rumours team is putting together offer sheet for 21-year-old Bruins forward" The first paraggraph "Toronto Maple Leafs fans hoping to see Phil Kessel in blue and white are probably out of luck. Leafs general manager Brian Burke quashed rumours Tuesday the Leafs were set to put together an offer sheet for the 21-year-old forward. Kessel, a restricted free agent, remains unsigned as the Bruins prepare to start training camp this week."
Similarily, Citytv had the same tone in their report on the story tonight.
Now, the National Post takes a different read from the exact same media scrum!:
Headline: "Leafs' Burke wants to land Bruins' Kessel"
From the story:
"General manager Brian Burke confirmed Tuesday that he is once again trying to pry restricted free agent forward Phil Kessel from the Boston Bruins. The 21-year-old, who was close to being traded to Toronto earlier this summer, would likely address some of the questions about the Leafs' offence. But actually getting him into a blue-and-white jersey could involve more than a simple player-for-player transaction."
When I worked in the IHL, the GM of the team I worked for always used to say to the beat writer who covered the team, there are multiple ways to interpret the same thing, if a team ties 4 and a row and then loses a game, are they winless in 5?????
Yes Burke said he didn't plan on signing Kessel to an offer sheet. Hello people, what is he supposed to say? If he wanted to end this discussion he would have told all that would have listened that he has no interest in Phil Kessel. He didn't say that. Why not? Because, he WANTS Phil Kessel. One, there is no reason to say that he is planning on making him an offer. Why tip your hat??? If he says he is going to do that, why wouldn't another team who is interested jump ahead of him if for no other reason than to drive up the price? Also, the easiest thing for Burke to do would be to make a trade. Why tip his hat publicly to Boston? Burke didn't lie, he said he isn't planning on doing it and he doesn't know what will happen next. Hell, he may have said to Boston, if we don't get a deal done by October 1 I may just sign him. Who knows. To jump off the deep end and say, that's it Burke isn't getting him is a tad bit irresponsible.
TSN offered up an angle similar to that of the National Post.
Meanwhile, happy Howie, Howard Berger chimes in with a few thoughts of his own:
"But, if Chiarelli were able to dump, say, Michael Ryder's $4 million pact on the Leafs – while obtaining a first-rounder from Burke – it would make abundant sense for him to trade Kessel to the Blue & White. Burke has implied, on several occasions, he'd be willing to assume a "bad" contract in the right deal. And that, in all likelihood, represents the tone of the Toronto-Boston negotiations right now."
So the Maple Leafs would acquire Michael Ryder and Phil Kessel for Toronto's #1 pick??? Interesting to say the least. Berger isn't usually the go to guy on rumours these days as he doesn't report them much anymore (must be because he doesn't watch too many hockey games on tv). In his defense, this is more of a suggestion than a rumor, but given names involved it certainly is worth mentioning. From my perspective, I would sooner do this than some of the reported offers out there. I have no problem taking salary back. Burke has let it be known that there is plenty of room on the farm for under-performing, overpaid veterans. Although I don't think it's reasonable, I would prefer that the pick be lottery protected. That is to say that if the Leafs are in the lottery that the pick moves to next year.
Stan Fishler offers a third party observation on Keseel:
"* Phil Kessel still isn't a Bruin, and the feeling we get is that GM Peter Chiarelli would be just as happy to unload the lad while his value is high. That, of course, presumes that Pistol Pete gets a decent return."
That doesn't sound like a guy with HUGE market value to me…..
Kevin Paul DuPont chimes in:
"One way or another, it now appears a fait accompli that Kessel will get his money, but likely not from the Bruins.
With a minimum of three teams bidding, Chiarelli is in a position to play them off one another in an attempt to better the offers. Burke, though, with that second-round pick, could short-circuit all trade talks by dropping a lucrative offer sheet on Kessel at any hour. Chiarelli's only option then would be to bid Kessel adieu or match the contract, which in turn would prohibit Chiarelli from trading Kessel for the entire 2009-10 season.
It's that overriding threat that could force Chiarelli's hand now, encouraging him instead to cut a quality deal with either the Predators or Rangers, or perhaps another club, rather than essentially be dictated terms by the Maple Leafs.
Both the Predators and Rangers have quality prospects that make a Kessel deal feasible. If that's the case, much like when the Bruins flipped Glen Wesley to Hartford 15 years ago, the club swapping for Kessel no doubt would insist the Bruins first sign him and then make the trade.
Otherwise, just as the Bruins right now are vulnerable to an offer sheet, another club could acquire Kessel's Group 2 rights but still risk losing him to an offer sheet for the same three draft picks."
Brian Burke wanted John Tavares. He didn't get him. He wanted the Sedins. He didn't get them. He wanted other players, he didn't get them. I am going to say that Burke is going to land Kessel. I am not sure if he is going to trade for him or sign him, but I think Burke lands the guy he wants.
Globe/CP story is here
National Post is here
Berger is here
Boston Globe is here