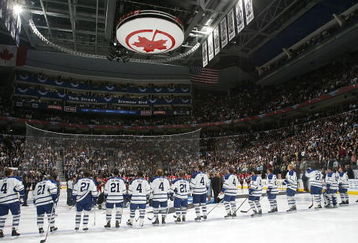 Puck Drop: 7:00pm
Tonight's line-up according to the Toronto Star.
TONIGHT'S LINEUPS
The Leafs
Forwards:
Jiri Tlusty – Mikhail Grabovski – Nikolai Kulemin
Jay Rosehill – Nazem Kadri – Lee Stempniak
Viktor Stalberg – Tyler Bozak – Christian Hanson
Colton Orr – Wayne Primeau – Jamal Mayers
Defencemen:
Mike Komisarek – Tomas Kaberle
Luke Schenn – Francois Beauchemin
Carl Gunnarsson – Ian White
Goaltenders:Vesa Toskala and Joey MacDonald
The Penguins
Forwards: Jordan Staal, Dustin Jeffrey, Paul Bissonette, Mike Rupp, Wyatt Smith, Chris Conner, Tim Wallace, Matt Cooke, Ruslan Fedotenko, Ryan Bayda, Nick Johnson and Tyler Kennedy.
Defencemen: Nate Guenin, Alex Goligoski, Ben Lovejoy, Mark Eaton, Jonathan D'Aversa, Robert Bortuzzo, Jay McKee.
Goaltenders: Brent Johnson, John Curry
No Malkin or Crosby…unfortunate for the Fans who go to see the game…
LT