According to Sportsnet, Ron Wilson has named the 3 players that will wear the 'A' as alternate (not assistant) captains this season.  I don't think you'll be surprised with the names on the list…Kaberle, Komisarek and Beauchemin.
What did come as a surprise is that Wilson said that he expects that one of the three 'A's will be wearing the 'C' by the beginning of November.  Are we entering another Rob Ramage period where we choose a short term solution?
Don't get me wrong…I'm a big Kaberle fan and love the Komisarek and Beauchemin pick-ups…I simply don't know enough about the two new guys and their ability to fill some pretty big shoes.  The list below includes some top notch leaders.  Do the guys above fit the bill?  Do you see the next Armstrong, Kennedy, Apps, Gilmour, Clark or Sittler? 
Leafs Team Captains:
Hap Day, 1927–37, Charlie Conacher, 1937–38, Red Horner, 1938–40, Syl Apps, 1940–43, Bob Davidson, 1943–45, Syl Apps, 1945–48, Ted Kennedy, 1948–55, Sid Smith, 1955–56, Jimmy Thomson, 1956–57, Ted Kennedy, 1957, George Armstrong, 1957–69, Dave Keon, 1969–75, Darryl Sittler, 1975–79, No captain, 1979-80, Darryl Sittler, 1980-82, Rick Vaive, 1982–86, No captain, 1986–89, Rob Ramage, 1989–91, Wendel Clark, 1991–94, Doug Gilmour, 1994–97, Mats Sundin, 1997–2008, No captain, 2008 – 2009
I don't see Kaberle as the guy….he's a long time member of the team but doesn't seem to be the vocal / leader type.  If he was truly the guy, why didn't they make him the captain last season?  In addition, he's going to continue to be a target for trade rumours. 
I'm going to vote for Beauchemin – not sure why other than I really liked how he played in the pre-season.  I think everyone knew he was good but was likely overshadowed by Niedermayer and Pronger in Anaheim.   He's a veteran with a Cup…that alone should help command respect.  
So let's put the question to the TSM readers….Who will get the 'C'?
NB: I came very close to adding another option…Mats will come out of retirement and wear the 'C'
As you consider your selection, take a look at some great Leafs captains: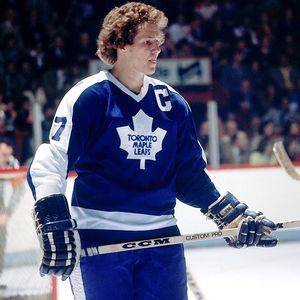 LT