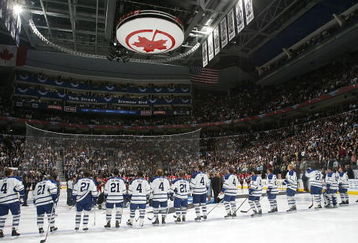 Puck Drop: 7:00PM ET
The storyline is simple – It's The Monster's coming out party as Wilson has elected to go with the kid.  I was of the opinion that Wilson might go with Toskala to counter the media / fan backlash and to try to squash the "goalie controversy"….I'm glad he didn't.  I'm looking forward to going to tonights game and seeing what this kid can do.  Is tonight going to be reminiscent of the night Felix The Cat started over Grant Fuhr?  Or when Palmateer came to the rescue when Wayne Thomas faltered?  We'll see…it should be fun at the ACC tonight.
Projected Lines vs. Sens
The line-up below was provided by TSN – Ice Chips…mapleleafs.com did not post anything.  Neither Finger nor Mayers are listed as injured but do not appear to be in the line-up.  Kulemin is up and in for Primeau.
Forwards:
Stalberg – Stajan – Blake
Ponikarovsky – Grabovski – Hagman
Kulemin – Wallin – Stempniak
Rosehill – Mitchell – Orr

Defencemen:
Kaberle – Komisarek
Beauchemin – Schenn
White – Exelby
Goaltenders:
Gustavsson
Toskala
LT