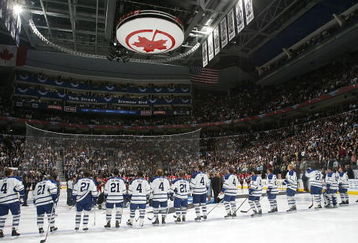 Two big questions tonight.
1. Can Toskala take advantage of the ice time he will get with the Monster on the shelf?  Let's hope so – and lets hope the fans support him tonight.  We need him to play well…not only to help the team win but to be a tradable asset when we hit the trade deadline.
2. Which team will show up?  The aggressive team that opened the season up against the Canadiens or the one that slept through the Ottawa game.
Finger is back in (Exelby sits) and the same guys remain out with injuries: Stalberg, Primeau, Kessel, Gustavsson
Forwards:
Hagman – Stajan – Stempniak
Ponikarovsky – Grabovski – Kulemin
Mayers – Mitchell – Blake
Rosehill – Wallin – Orr
Defencemen:
Kaberle – Komisarek
Beauchemin – Finger
White – Schenn
Goaltenders:
Toskala
Macdonald
LT