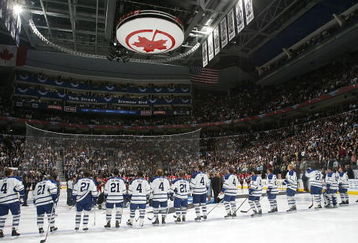 Not sure what to say about this one….Rangers are hot and the Leafs are not.  There were a few shifts in the second half of the Pens game that I hope Wilson played over and over on the big screen so that the boys could see what they need to do…Forecheck/pressure in the offensive zone netted a couple of goals and some chances….in addition to keeping the Pens away from our zone…Unfortunately, we only saw a few occurances.
The line-up looks like the same….Exelby remains a healthy scratch and Van Ryn, Stalberg, Primeau and Kessel are out with injuries.  Stalberg may see action on Tuesday night…Let's hope so, we could use some of his speed and youthful exuberance.
While I know Wilson and Burke say they won't panic too early in the season, tonight and tomorrow night will likely be important for a few guys on the roster (and Marlies).
Projected Lines vs. Rangers (from The Sun)
Forwards
Nikolai Kulemin-Mikhail Grabovski-Niklas Hagman
Alexei Ponikarovsky-Rickard Wallin-Lee Stempniak
Jason Blake-Matt Stajan-Jamal Mayers
Jay Rosehill-John Mitchell-Colton Orr
Defence
Tomas Kaberle-Mike Komisarek
Francois Beachemin-Jeff Finger
Ian White-Luke Schenn
Goal
Vesa Toskala
Joey Macdonald
LT