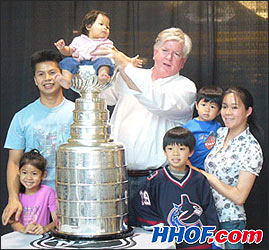 I was out most of the day today so I didn't get a chance to listen to much radio. Thankfully, Bruce Arthur was listening when Brian Burke was on the Fan 590. Contrary to what some have written recently about Brian Burke, the guy gets it. He knows what he has to do. The question is does he know how to do it or is he able to do it again?
""It corrodes your confidence," Burke told The Fan590 yesterday. "I think your forwards won't gamble at all on the offensive end, and they won't hang around and take a chance on a loose puck because they figure they've got to get back. Your [defencemen] give up the blue lines, both blue lines, way too quickly, way too easily."
The "IT" is shitty goaltending. As you have read here and other places, bad goaltending effects the entire psyche of the team. It's not just the bad goals, its the total effect on the entire team.
"Right now, we're playing with our third and fourth goaltender in the organization. No one else in the NHL is doing that, and it's hurting us, it's showing up."
Well, at least we agree on the problem. The question is does anyone really have any faith in #'s 1 and 2? Someone who's opinion I kind of respect has told me privately that they are convinced that the Burke/Wilson plan involved getting the entire town turned on Vesa to get him out of here. Now the comment was partially in jest, however the sentiment was pretty clear. There is no way they wanted to start O for….. but……
"He told The Fan yesterday that he learned his goaltending lesson in Vancouver, where Dan Cloutier sabotaged some pretty good teams, whether due to injuries or otherwise. "So I got to Anaheim and I said, 'Never again will I be short on goaltending," Burke said. "'Never again.'
Ummmmmmmmmmm….my never seems to have come around pretty quickly no?
"Goaltending is like pitching," he told the radio station. "It doesn't matter how good the rest of your team is … It doesn't matter what other positions you solve, it doesn't matter if you're GM of the year for the other positions – if you don't have goaltending, you're going home."
You see, I agree with everything the guy says. No I don't think you rush to judgement after 6 or 7 games. But….As Kenny Rogers said, or sang, you got to know when to hold em….. Forget the Monster for now. He is too young and too raw. The question is very simple. Can Vesa Toskala be a number one goalie here? It's not whether he is a number one goalie. Lots of players have left the big smoke and gone on to play well elsewhere. Is Vesa done here? That is the question Burke needs to answer. Right now he is a team without an ace, a number 2 or number three pitcher. His players are playing like every pitch is going to end up over the fence. He is saying all the right things. The question is what does he do about it???? I wonder what his new goalie guru thinks of Vesa. Both Burke and Wilson were pretty tough on Toskala last year. His play so far can not have endured them any more. One can wonder why if he is saying all these things right now why he entered the season with a questionable number one, a rookie number two and well, Joey.
It seems pretty obvious that, as he said above, all the moves he made over the summer are pretty irrelevant until he finds a goalie. A guy who will relax the players in Toronto and carry the load until Jonas is ready and seasoned. His front office staff have to find that guy who can come in and, oh, I don't know, make a big save right out of the gate. Burke knows it, question is can he get it. Time will tell.
TSM
@yyzsportsmedia
Bruce Arthur is here
Brian Burke Is brianburke-hc-20091019
[podcast]https://torontosportsmedia.com/wp-content/uploads/2009/10/brianburke-hc-20091019.mp3[/podcast]