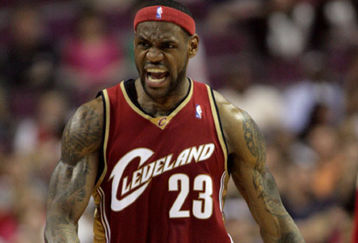 I was a Cleveland Cavaliers fan last night, and not just because I hate the Celtics.
It also had a lot to do with tonight's season opener, when the new-look Raptors will try to knock off LeBron James and the Cavs. The Raps have always been powerless to stop superstars, let alone angry superstars. And you can bet LeBron and Shaq will come out swinging after a tough 95-89 loss at home. I figured we might see a somewhat complacent opponent if Cleveland had won, but it'll be just the opposite. Now, nothing will surprise me… LeBron scoring 50? Shaq going 30 and 15? Honestly, both could happen and I wouldn't bat an eye.
Like I said, I really wish the Cavs had won.
They didn't, though, and the Raptors still have a chance. Maybe opening night provides an extra boost of adrenaline, and perhaps this team gels for the first time. It's difficult to predict the kind of game we'll see from Toronto, considering any solid effort would be radically different from the performance we saw in Minnesota last week. If the team plays anything like they did during the preseason, it'll be a long night. I think we'll find out very early whether the Raps can compete – Yes, tonight the first quarter will be telling.
Let's break down the matchup:
Point Guard
If the Raptors hope to make any noise this season, they need Jose Calderon to play well on a nightly basis. He looked terrible early in the preseason, but rounded into form towards the end. Ideally, Calderon will look to turn the corner on the high screen-and-roll, and spot up for 3's when Hedo runs the point. On the other side, Mo Williams is probably too quick for Jose to contain, but he played 35 minutes against the Celtics. Hopefully, a healthy Calderon can take advantage and make Williams work on the defensive end. Two years ago, it's advantage Jose. Last year, advantage Mo. Who plays better tonight will go a long way towards determining the outcome.
Shooting Guard
This will be a lot of fun, as we'll get to see rookie DeMar DeRozan up against former Raptor and fan-favourite Anthony Parker. It's actually a great first matchup for Toronto's rookie, sparing him the task of guarding say, Ray Allen. Parker played a surprising 40 minutes last night, meaning the onus is on DeRozan to make him work. We saw plenty of this in the preseason – It's clear that his strength is running the floor and getting to the line. On the defensive side, DeRozan has to be aware of Parker's preference to shoot corner 3's, while staying focused on chasing him around screens. AP wasn't particularly effective against Boston and DeRozan certainly has the tools to make it tough on him tonight. Once Parker gets in a rhythm, he's tough, and it wouldn't surprise me to see that against Toronto's perimeter D.
Small Foward
LeBron is a beast who can't be stopped, just contained – force him to take outside jumpers and hope for the best. Hedo Turkoglu can't be expected to defend James by himself, and it's a situation that needs to be a total team effort. Expect a few blown assignments leading to huge dunks, but hopefully they'll make James work hard. It's the only way to guard him, and it's never pretty. On the offensive end, look for Turkoglu to drive the lane and get teammates involved, allowing Calderon to spot up and shoot more often. If the atrocious preseason shooting numbers improve, so will Hedo's effectiveness.
Power Forward
Alright, Chris Bosh, show us what you got. Against Anderson Varejao, Bosh is clearly the superior player, but probably can't match the hustle. We've seen this too many times – Bosh struggles against energy players and eventually settles for too many jumpers. Will that change tonight? Let's hope so. Numbers-wise, this matchup won't be close, but their play will dictate how the Raptors run the offense. It's also Game 1 of Bosh's contract year, so let's hope that translates to even better play. He's the leader of this team and it's time to show it.
Center
Andrea Bargnani vs Shaq is a battle of complete opposites. Neither can guard the other, as Bargnani likes to go outside, while Shaq clogs the lane. There will be pressure on Andrea to box out and grab rebounds, while there's no question that Shaq will find it difficult to guard Bargnani away from the basket. O'Neal looked gassed in the second half last night and Bargs should have the advantage, but it's easier said than done. Expect open 3's for our big man, that he absolutely has to knock down.
Bench
I have to admit, I giggled watching Jamario Moon launch a three-pointer in transition last night. Get used to that, Cleveland. Overall, I was shocked by the lack of talent on the Cavs bench, but I suppose much of that is due to Delonte West's issues. Still, Boobie Gibson, Big Z and Jamario don't scare me, and I certainly prefer Jarrett Jack, Amir Johnson, Rasho Nesterovic and Antoine Wright. If Toronto's starters get the job done, the bench won't let them down.
Final Thoughts
The Cavs will be pissed, and THAT scares me. Really, though, LeBron is the story. The Raps need to somehow contain him and play better team defense than we've seen in the preseason. On offense, Toronto needs to shoot much better and spread the floor. Finally, rebounding is key, and they need everyone active against a powerful Cleveland frontcourt. I'm more confident than I was last night, but I also never count out an angry LeBron. It's great to have basketball back, and this should be fun.
-DL