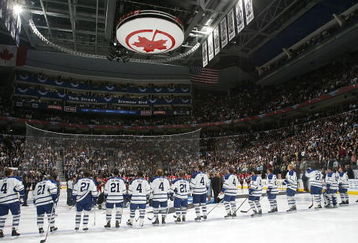 The headline for tonights game is….the debut of Phil Kessel as a Maple Leaf.  Let's trust that the medical staff took a cautious approach and Phil is in no danger of re-injuring his wing.  I for one will not be looking for #81 to net a hatrick tonight….I'll be looking to see some speed and perhaps him getting a few chances to wipe the rust off.
Other than moving Tlusty down to make room for Kessel – no other line up changes.  Finger, Mayers and Rosehill get their reserved seats in the press box.
It is expected that Wilson will put his new #1 goalie back in cage…Gustavsson will get the start.
Line Up
Forwards
Blake Stajan Kessel
Ponikarovsky Grabovski Kulemin
Hagman Mitchell Stempniak
Primeau Wallin Orr
Defense
Kaberle Komisarek
Beauchemin White
Exelby Schenn
Goalie
Gustavsson
Toskala
I'll be in section 320 enjoying the game.  In addition to seeing Kessel's return, it will be fun to watch a couple of first rounders….Hedman and Stamkos.
LT