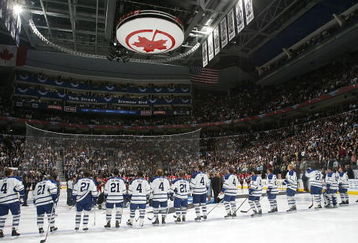 Looks like Wilson is going to go with his #2 who was the #1 goalie tonight.  Some had suggested that Wilson might want to play Toskala more on the road until he gets his confidence back…So perhaps that's all this is.  Or he is simply playing the hotter goalie as Tosk did show signs of life last week.
The line-up looks the same as the one that was put on the ice on Saturday.  Primeau is still out and White will play despite missing practice due to a personal issue. 
I hope we see some bang and crash versus the odd fight from the 4th line….Can't figure out why that's not the way they come out – We need an energy line early…not a fight line.
Projected Lines vs. Senators
Forwards
Ponikarovsky Stajan Kessel
Blake Grabovski Hagman
Kulemin Mitchell Stempniak
Mayers Wallin Orr
Defense
Kaberle Finger
Beauchemin White
Gunnarson Schenn
LT