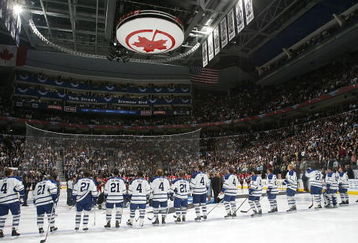 Tavares is coming to town!  Let's see if the Leafs can do to him what they did to Ovechkin on Saturday night.
It looks like Finger's lower body injury will keep him out of the line-up…Exelby is in.   Is the Wallin project over?  He'll sit again…Mayers remains in the line up.  Vesa gets the start…some media have reported that the goal is for him to play 2/3 of the games from here on out.  Let's see if he can earn / reach that goal.
Here's hoping for a mini streak to begin.
Projected Lines vs. Islanders
Forwards
Ponikarovsky Stajan Kessel
Blake Grabovski Hagman
Kulemin Mitchell Stempniak
Mayers Primeau Orr
Defense
Kaberle Gunnarson
Beauchemin White
Exelby Schenn
Goalie
Toskala
Gustavsson
LT