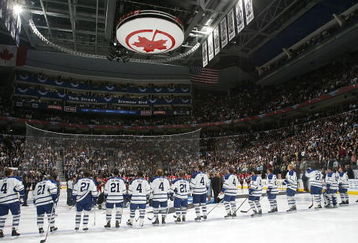 Date: February 2, 2010
Rink: ACC (Toronto)
Puck Drop: 7:00PM ET
Radio: AM 640
TV: Rogers Sportsnet
Let's see if what we got back will fare better than what we sent packing…..While the Ducks won their game, neither Blake nor Toskala showed up on the boxscore.  The new look Flames fizzled and couldn't muster a goal, let alone more than 15 shots last night.  Yes, it's too early to tell whether or not any of the aforementioned will have an impact on their respective new teams.
Now for the debut of our new additions….While Phaneuf may not be paired with Kaberle 5 on 5, I'm looking forward to seeing what they can do together on the power play.  Our PK has been surprisingly brutal most of the season; will Sjostrom make a difference?  I think Burke and company will be holding their breath until Giguere makes his first couple of stops.  Remember Eddie Belfour's first shot on goal (pre-season that is)?
As expected, 1 call up from the Baby Leafs (how come nobody calls them that anymore? Probably not a bad thing – but I do miss references to "the rock")…Christian Hanson gets another chance.  This time he will play center on the 2nd line – though his line mates look more like 3rd or 4th liners.  I actually like the idea of Mitchell on the wing versus center. 
The odd man out again is Jeff Finger…..what a tough season for him.
The Leafs may have gotten a bit of a break – Yann Danis will start for the Devils…though history has shown that back-ups shine against the Leafs when given a chance….and even more likely with less fire power coming his way.
Forwards
Ponikarovsky Bozak Kessel
Mitchell Hanson Stempniak
Kulemin Wallin Sjostrom
Rosehill Primeau Orr
Defence
Phaneuf Beauchemin
Kaberle Gunnarsson
Exelby Schenn
Goalie
Giguere (start)
Gustavsson
Scratch: Finger
LT