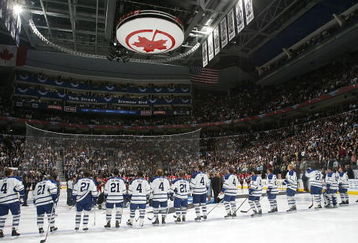 Date: March 2, 2010
Rink: ACC (Toronto)
Puck Drop: 7:00PM ET
Radio: AM 640
TV: Sportsnet
I don't know about you but, as excited as I am to get the NHL going again, nothing is going to compare to the hockey we got to see out of Vancouver over the past 2 weeks.  I'm not just talking about the Canada vs. USA or Canada vs. Russia games…aside from a few blowouts, the hockey overall was fantastic.
Hanson, Stalberg and newly acquired Jamie Lundmark will be in the line-up….presumably that means Mikahail "Put Up Your Dukes" Grabovski is not ready to play.  The same is true for Mike Komisarek as it looks like Garnet Exelby will be in the line-up as well.  I'll give you one guess as to who is scheduled to be riding the pine from the defence corp…..you got it, Jeff Finger.  I wonder if Ron Wilson and Brian Burke make Cliff Fletcher communicate his game status for them?
Anyway, it will be a very emotional night at the ACC….not because they will honour the Olympians, but because it will likely be Ponikarovsky, Primeau, Exelby and perhaps Stempniak's final games in their storied careers as Toronto Maple Leafs.  🙂
Here is the expected line-up….
Forwards
Ponikarovsky Bozak Kessel
Stalberg Hanson Stempniak
Kulemin Wallin Sjostrom
Mitchell Primeau Orr
Defence
Phaneuf Beauchemin
Kaberle Schenn
Exelby Gunnarsson
Goal
Giguere (start)
Gustavsson
Scratch: Finger
TSM and I will be at the game….looking forward to getting back to the ACC.
LT