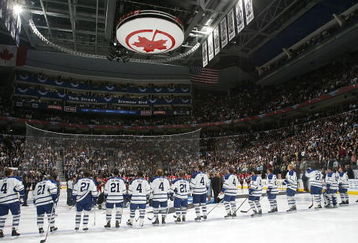 Date: March 16, 2010
Rink: Scotia Bank Place (Ottawa)
Puck Drop: 7:30PM ET
Radio: AM 640
TV: Rogers Sportsnet
Let's hope that the flight into Ottawa was better than the one into Long Island on Sunday….The Buds had a rough outing after winning 3-straight.
Aside from another opportunity for the kids to get some playing time, tonight is about winning the Battle of Ontario and Orr v. Carkner…..Orr has had the best of Carkner so far this season but I have a feeling his classless "three-fingered" salute after the last battle will motivate Carkner to get into the win column.
No line-ups were posted today so I'd have to imagine that nothing has changed.  Poor Exelby…Lesson #1…if you want ice time, don't tell your GM to move you – and definitely let it out into the public.  Queue in Jeff Finger again – he's probably exhausted with all of the ice time he's had since the deadline.  The Sens have struggled of late and it appears as though they will be without Mike Fisher.  Let's see if Jonas Gustavsson can win his 4th straight….
Forwards
Kulemin Bozak Kessel
Stalberg Grabovski Caputi
Mitchell Hanson Lundmark
Wallin Primeau Orr
Defence
Phaneuf Beauchemin
Kaberle Gunnarsson
Finger Schenn
Goalie
Giguere
Gustavsson (Start)
Scratch: Exelby
Injured: Komisarek (ofs), Sjostrom, Van Ryn (ofs)
UPDATE: EXELBY IN, FINGER OUT. 
LT