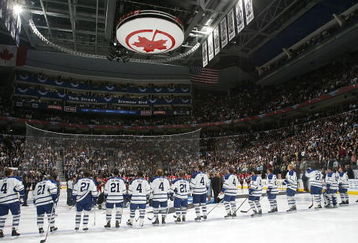 Date: March 18, 2010
Rink: ACC (Toronto)
Puck Drop: 7:30PM ET
Radio: AM 640
TV: TSN
Once again the Leafs are fairing quite well when it doesn't matter….that's what most of the critics will say.  While this may be true, the difference in my opinion is that it's not a bunch of under performing veterens like in past years.  We're seeing marked improvement and strong performances from young players that will likely be part of this squad for years to come.   At least we are seeing entertaining hockey.
Though Jonas Gustavsson has played extremely well of late, Ron Wilson will continue with the alternating games approach so expect to see JS Giguere between the pipes.  Fredik Sjostrom returns from injury and various reports indicate that it will be Wayne Primeau that takes a seat.  Garnet "trade me" Exelby got back into the line-up against the Sens and TSN Ice Chips has him playing again tonight.  Finger must have missed his press box seat. 
I know it's the day after St. Patricks Day but….I wonder if we'll see this tonight?
Forwards
Kulemin Bozak Kessel
Stalberg Grabovski Caputi
Mitchell Hanson Lundmark
Orr Wallin Sjostrom
Defence
Phaneuf Beauchemin
Kaberle Schenn
Exelby Gunnarson
Goalie
Giguere (start)
Gustavsson
Scratch: Finger, Primeau
Inured: Van Ryn (ofs), Komisarek (ofs)
LT