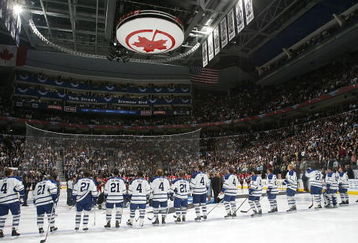 Date: March 23, 2010
Rink: ACC (Toronto)
Puck Drop: 7:00PM ET
Radio: AM 640
TV: Rogers Sportsnet
Let's see if the red hot Leafs can continue to play the role of spoiler…The Panthers need this game as they still think they can jump over 3-teams for the final playoff spot.  The Leafs, well…the kids still want to show what they can do with hopes of landing jobs next year…For a few guys it's also about contracts.  The Star had a quote from Giguere today that demonstrates that the players are thinking about the Kessel deal and wanting to avoid giving the Bruins a top pick "It's no secret we gave a first-round pick to Boston (for forward Phil Kessel) and you don't want them to have the first overall pick or second overall," said goalie Jean-Sebastien Giguere.   I actually like the fact that the players are rallying behind this…supporting their GM and their own embarrassment.
Luca Caputi returns to the line-up after a bout with Norwalk virus.   It looks like Primeau will be the odd man out up front – though Colton Orr missed the morning skate….We'll see…Mr. Finger will find his place in the pressbox as it looks like Exelby will be the 6th d-man.
I'll be at the game tonight – hopefully I'll get to see the team of the past 10 versus the last game I saw live (first game back after the break against the Canes…awful).
Forwards
Kulemin Bozak Kessel
Stalberg Grabovski Caputi
Mitchell Hanson Sjostrom
Lundmark Wallin Orr
Defence
Phaneuf Beauchemin
Kaberle Gunnarsson
Exelby Schenn
Goalie
Giguere (start)
Gustavsson
Scratch: Finger, Primeau
Injured: Van Ryn (ofs), Komisarek (ofs)
LT