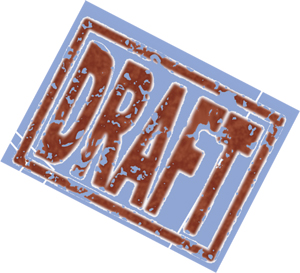 T-minus four days until the NFL draft, and of course rumours and speculation have hit a fever pitch. There's the usual quarterback intrigue, smokescreens being used by teams to mask their draft intentions, and the greatest part of this offseason – trades galore. So far, there are four trades that have greatly affected the draft; Donovan McNabb, Santonio Holmes, Brandon Marshall, and Sheldon Brown (one seems a little out of place, doesn't it?). That being said, here's my take on the first round of the draft, although unfortunately I can't predict trades…
1. St. Louis Rams – Sam Bradford, QB, Oklahoma
            This pick makes too much sense not to happen. The Rams need a face of the franchise, and they seem to have limited interest in Notre Dame QB Jimmy Clausen. Taking one of the top defensive tackles would tie up too much money in the defensive line. There's been speculation of a trade with the Cleveland Browns, but don't bet on it.
 2. Detroit Lions– Ndamukong Suh, DT, Nebraska
            After the Corey Williams trade I really thought the Lions would opt for OT Russell Okung, but it looks like a DT will be the pick. With either Suh or Gerald McCoy, Detroit will be getting an impact player. They'd love to trade down, but who at the top of the draft wouldn't?
 3. Tampa Bay Buccaneers – Gerald McCoy, DT, Oklahoma
            Whichever tackle doesn't go to Detroit, Tampa will have no problem snapping up in a second. In the off chance both are on the board when Tampa selects, I think they'd prefer to grab Suh. Either way, it's a win-win for the Bucs.
 4. Washington Redskins– Russell Okung, OT, Oklahoma State
            Before acquiring Donovan McNabb, I would have penciled Jimmy Clausen in here. Now that they have a quarterback, the Redskins need to improve an atrocious offensive line. Okung is the rated as the best tackle in the draft, but Oklahoma tackle Trent Williams may also be in play.
 5. Kansas City Chiefs– Bryan Bulaga, OT, Iowa
            The Chiefs are also in the market to improve their O-line, and Bulaga could step right in and allow former first round pick Branden Albert to slide over to the right side. Trent Williams is also a possibility here. The dark horse pick would be Tennessee safety Eric Berry, but Scott Pioli doesn't tend to value safeties this high in the draft.
 6. Seattle Seahawks – Trent Williams, OT, Oklahoma
            This one's a toss up between Williams and Berry, but tackle has a higher positional value and Seattle needs to replace Walter Jones. Williams is potentially the best tackle fit for a zone-blocking scheme, so Seattle will be happy to take him off the board.
 7. Cleveland Browns – Eric Berry, S, Tennessee
            Here's where the fun starts. I considered Clausen here, as well as wide receiver Dez Bryant. Berry, though, is considered a 'safe' pick, so I believe Mike Holmgren will take him to anchor the Browns defence. Trading up has been talked about (Holmgren loves Sam Bradford), and if Berry's off the board, they may trade down.
 8. Oakland Raiders– Anthony Davis, OT, Rutgers
            The popular pick here has been Maryland tackle Bruce Campbell, but Davis is an interesting prospect in his own right. He has as much potential as any tackle in the draft, but most overcome some serious attitude concerns. Campbell is a work-out warrior, which automatically puts him in the discussion for owner Al Davis. In the end, I'm hoping other Raiders executives have a say and can talk Davis into the player with the higher ceiling.
 9. Buffalo Bills– Jimmy Clausen, QB, Notre Dame
            Buffalo really wants to grab one of the top tackles, but with four gone already, they have to move on to Plan B. This will come down to either Clausen or Tennessee defensive tackle Dan Williams. In the end, I believe Buffalo will take a quarterback of the future, who's pro-ready and can step in immediately and sell some tickets.
10. Jacksonville Jaguars – Jason Pierre-Paul, DE, South Florida
            Jacksonville is the hardest team to predict in the first round. I have almost no idea where they'll go with this pick. They very well could trade down with someone looking for a shot at Dez Bryant or CJ Spiller. I'm going with Pierre-Paul because of his immense upside, and the Jags' need to rush the passer. People will point out that they just signed Aaron Kampman, but he's not enough. Others getting consideration here are Florida corner Joe Haden, Spiller, and Texas safety Earl Thomas.
 11. Denver Broncos– Dez Bryant, WR, Oklahoma State
            After shipping out Brandon Marshall, Denver needs a new receiver. Bryant has immense potential, but some off-the-field issues. Trading one diva receiver and taking another doesn't make much sense, but Denver needs playmakers. Some scouts even believe Bryant is more talented than Michael Crabtree was at this time last year. Denver's also a candidate to trade down.
 12. Miami Dolphins – Dan Williams, DT, Tennessee
            I fully expect Miami to trade down and try and recover a second round pick, but for now I'll give them Dan Williams. Jason Ferguson is aging and suspended for eight games, so Williams can step in and take over at nose tackle immediately. Another option here would be Earl Thomas.
 13. San Francisco 49ers– Joe Haden, CB, Florida
            The Niners get a top-10 player here, and he fills a need. It's a great match, giving Mike Singletary & Co. another playmaker on defence. If Haden's available, it makes too much sense for San Fran to pass on him.
 14. Seattle Seahawks – CJ Spiller, RB, Clemson
            Spiller could very well be off the board by now, as he's got as much momentum as anyone right now. He'll add a much-needed explosive presence to the Seahawks' offence, and also contribute on special teams. Georgia Tech defensive end Derrick Morgan is also in play here with the recent retirement of Patrick Kerney.
 15. New York Giants– Sean Weatherspoon, LB, Missouri
            Rolando McClain is seen as the top inside linebacker in the draft, but Weatherspoon is a better fit for the G-Men. He's better suited to play in defensive co-ordinator Perry Fewell's Cover Two scheme due to his coverage abilities and speed. The Giants love to stockpile defensive linemen, so don't rule out Derrick Morgan either.
 16. Tennessee Titans – Derrick Morgan, DE, Georgia Tech
            The Titans lost Kyle Vanden Bosch in free agency, and they'll need to replace him. Morgan had great production for the Yellow Jackets, and would be a welcome addition to Tennessee's defensive line. Cornerback will also be considered, with Boise State's Kyle Wilson, Rutgers' Devin McCourty and Alabama's Kareem Jackson still on the board.
 17. San Francisco 49ers– Mike Iupati, G, Idaho
            Iupati's seen by many scouts to have the potential to switch to tackle, which is exactly what the 49ers will be hoping for. With Joe Staley at left tackle and Iupati on the right side, San Fran will be set up for years with bookend tackles. Earl Thomas and USC safety Taylor Mays will also be in play here.
 18. Pittsburgh Steelers– Maurkice Pouncey, G/C, Florida
            Pittsburgh loves to run the ball, and they may need to do so even more with a potential suspension looming for Ben Roethlisberger. Pouncey can step in immediately at several positions, and scouts see him as a long term starter. There's talk Pouncey could even go off the board as high as 11thto Denver. Cornerback is another option for the Steelers, and Kyle Wilson will definitely be looked at here.
 19. Atlanta Falcons – Brandon Graham, DE, Michigan
            Atlanta needs to improve its pass rush, and Graham and USC's Everson Griffen are the two best pass rushers left on the board. After his dominating Senior Bowl performance, Graham has shot up draft boards despite his small size. If Atlanta doesn't go for an end, a cornerback to play across from Dunta Robinson is needed.
 20. Houston Texans – Kyle Wilson, CB, Texas
            Plenty of mocks have the Texans grabbing Fresno State running back Ryan Matthews, but Houston needs playmakers in the secondary. Wilson could step in to replace Dunta Robinson from day one. Earl Thomas is another option, as is Matthews if the Texans are absolutely focused on upgrading their running game.
 21. Cincinnati Bengals – Earl Thomas, S, Texas
            This is a dream scenario for Cincinnati. They could use a dynamic talent to man centre field in their defence, and Thomas can certainly fill that void. If Thomas isn't available, things get a little cloudier. Taylor Mays is more of an in-the-box safety, or the Bengals could give Carson Palmer another weapon like Oklahoma tight end Jermaine Gresham or Georgia Tech wideout Demaryius Thomas.
 22. New England Patriots– Jared Odrick, DE/DT, Penn State
            To fill the hole created by the Richard Seymour trade, the Pats grab Jared Odrick. He can start at the five-technique from day one, and add a key piece to New England's defence. Bill Belichik has a history of bypassing pass rushers in the first round, although New England could sure use one. Jermaine Gresham will be considered as well.
  23. Green Bay Packers – Bruce Campbell, OT, Maryland
            Green Bay General Manager Ted Thompson usually goes for the best player available, so Green Bay's a wild card. They could use help on their offensive line, so the physically gifted Campbell makes sense. He's a work in progress, but could spend a year learning from Chad Clifton and Mark Tauscher. USC tackle Charles Brown may be a better fit in the Packers' zone-blocking scheme. Don't rule out a cornerback either.
 24. Philadelphia Eagles– Devin McCourty, CB, Rutgers
            I do not expect Philadelphia to select 24thon draft day. There's been talk that they want to move up for a shot at either Eric Berry or Earl Thomas, and I can see them making that move. However, if they stand pat, they still need to address their secondary. Taylor Mays is an option, but Ellis Hobbs is currently penciled in as one starting cornerback, so they need some help on the outside. McCourty has starting potential from day one. Andy Reid loves to build his two lines, so they will get consideration as well.
 25. Baltimore Ravens – Rolando McClain, ILB, Alabama
            The rich get richer. Baltimore goes for talent above need, and McClain certainly has legitimate talent. He's best suited for the 3-4, and he could serve as the heir-apparent to Ray Lewis. Cornerback is also a need, and they seem to be focused on giving Joe Flacco options in the passing game, so Jermaine Gresham and Demaryius Thomas are also options. In the end, McClain has too much value to pass up.
 26. Arizona Cardinals – Sergio Kindle, DE/OLB, Texas
            Arizona has had a disastrous offseason, losing several key players. Sergio Kindle could help provide the Cards with an outside pass rusher, adding to a defence that lost Karlos Dansby and Antrel Rolle. Offensive tackle will also be considered here to replace Mike Gandy, and Arizona's always on the lookout for more offensive weapons so keep an eye on Jermaine Gresham or a receiver.
 27. Dallas Cowboys – Taylor Mays, S, USC
            Taylor Mays gives the Cowboys another smash-mouth safety, in the mold of former first round pick Roy Williams. Mays has tremendous potential, but needs work to refine his pass coverage skills. Dallas would love to see Mike Iupati here, but with him off the board they can address the hole created by Ken Hamlin's release. South Florida's Nate Allen may be the safer pick at this juncture.
 28. San Diego Chargers – Ryan Matthews, RB, Fresno State
            This pick will either be a running back or a nose tackle. San Diego needs a new workhorse back, and Matthews seems to be the best equipped in the draft to provide that service. If Matthews is off the board, Alabama's Terrance Cody will be selected to replace departed run-stuffer Jamal Williams.
 29. New York Jets – Brian Price, DT/DE, UCLA
            Gang Green has certainly become a volatile situation this offseason, with several questionable personalities brought on board. But in the defence of the J-E-T-S, they've filled many holes on their team. If Jason Taylor is signed as a pass-rusher, it frees New York to solidify its defensive line. Price would play end in the 3-4, providing as upgrade over Marques Douglas. A pass rusher could still be added even with the signing of Taylor, so TCU's Jerry Hughes is in play, as is Sergio Kindle if he's still on the board.
 30. Minnesota Vikings– Tim Tebow, QB, Florida
            I wouldn't be surprised if Tebow isn't available this late in the first round. If he is, the Vikings have an interesting decision to make, and it's time to think about the future. Tebow could learn behind Brett Favre for a year or two, and take over with a thorough grasp of the NFL. If the Vikings opt to bolster another position, Alabama corner Kareem Jackson makes a lot of sense, seeing as Cedric Griffin may not be ready to start the year for Minny.
31. Indianapolis Colts – Charles Brown, OT, USC
            The Colts have to upgrade their offensive line, and Brown has the ability to play multiple positions. If he's capable of supplanting Charles Johnson, he could start at left tackle from day one. Indy could also look to upgrade its defensive line here if a solid defensive tackle is available.
32. New Orleans Saints– Everson Griffen, DE, USC
            Even with the signing of Alex Brown, the defending champs could use an infusion of talent at defensive end. Griffen has tremendous potential, and would contribute as a situational pass rusher early on. Florida's Carlos Dunlap could very well be the pick.
We'll find out in a few days how correct my mock was, hopefully, it's better than my free agent predictions (https://torontosportsmedia.com/?s=nfl+free+agency+preview). Enjoy the draft.
TWO POINT CONVERSION
– Lovie Smith thinks Brian Urlacher's injury-ruined-2009 season was a good thing. Lovie Smith obviously didn't watch the Bears play most weeks
– why don't the New York Jets just sign Terrell Owens? He seems to fit what they're doing this offseason