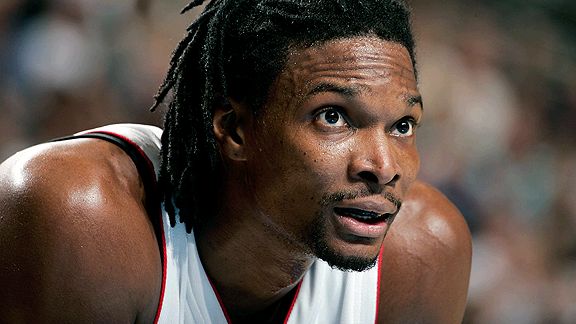 Bryan Colangelo has almost confirmed the worst kept secret around the NBA yesterday. Chris Bosh will not be wearing a Raptors uniform next season. Colangelo spoke pessimistically, yesterday on the Fan 590, about Bosh's chances of returning next year.
My question is whether or not Bosh leaving the Raptors is good for the franchise?
Bosh has been in Toronto for 7 years and the Raptors have made the playoffs twice, never advancing past the first round. Colangelo has auditioned several players to play the role of Bosh's robin, unsuccessfully every time. Jermaine O'Neal, Hedo Turkoglu and even Shawn Marion have been brought into Toronto.
The other headliners in the infamous 2003 draft, Lebron James, Dwayne Wade and Carmelo Anthony, have all enjoyed greater success in the playoffs than Bosh.
I believe Chris Bosh is a perennial all-star and has statistics worthy of receiving a big payday this July, but perhaps a major change in Toronto is a good thing. Toronto needs a new face to the franchise to lead the team to greater results.
For years we have been questioning the team around Chris Bosh, but maybe it's time we question Chris Bosh. Bosh has not proven worthy of the maximum contract that he seeks. Lebron, Wade and Carmelo have all accomplished much more with similar supporting casts around them.
Perhaps Bosh is better suited as a supporting player to another superstar.
What should Toronto do now? A lot of it depends on whether or not Colangelo is able to pull off a sign and trade deal with Bosh. Rumour has it that Bosh's most likely destinations are Miami or Chicago.
Miami has unloaded everyone on their roster, except for two players, in preparation for this offseason. Chicago is shopping around Luol Deng, but his large contract makes him undesirable to the Raptors. Joakim Noah is believed to be the asking price for Bosh from the Raptors, but the Bulls are in no hurry to move him.
The Raptors have Calderon, Bargnani, and Turkoglu all locked up with long-term contracts. The inflexibility of the roster, makes blowing up the Raptors a very difficult task. Ed Davis and DeMar DeRozan are nice young pieces to have, but will both take a lot of time to develop. It is unclear at this point whether either player is capable of great things in the future. What we need now is a new face to the franchise, but this could take time to find because of the firmness of the roster.
The future of the Raptors depends heavily on how this offseason plays out.
One thing is for sure, like always, Raptors fans can expect a lot of changes this offseason.