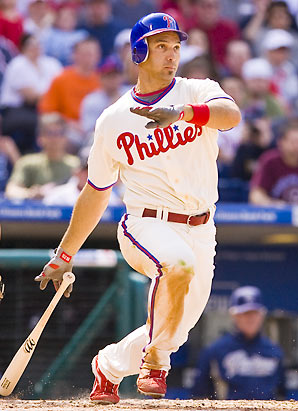 In the "year of the pitcher", there have been a number of hitters that have seriously let down their fantasy owners in the first half. There's the diminishing production of guys like Lance Berkman and Carlos Lee in Houston, to the disastrous disappearing acts of the once hyped Chris Davis in Texas and Gordon Beckham with the White Sox. Not to mention a couple of 2009 breakout Blue Jays who crashed and burned (despite the excellent production from the likes of Jose Bautista and Vernon Wells hitting around them).
Although the All-Star Break is only a few days long, sometimes it's all some of these first half disappointments need to turn things around and finish strong. I've compiled a list of some of the bats that I expect to put up numbers in the second half that are closer to their career norms.
Raul Ibanez:
Ibanez is a tough one to have faith in, if only because of his age. He's 38 years old, and it seemed as though the journeyman was finally playing his age this season. Before the All-Star Break, Ibanez hit just .243 with seven home runs and 39 RBI in 85 games. To put that in perspective, he had 22 homers and 60 RBI in 64 games at the halfway point last season. However, since Chase Utley's injury, Ibanez has relished the opportunity to hit in the three hole, posting a .302 batting average, three home runs and 15 RBI in the 23 games since the All-Star second baseman went down.
Don't expect anything spectacular in the last few months of the season, but Ibanez should provide consistent production in that beastly Philadelphia lineup, especially if he remains in the 3 spot. If you're looking for outfield help and he's available, give Ibanez a look.
Aramis Ramirez:
I'm cheating a bit with this one, as Ramirez has already shown he's on his way to a serious turn around in the second half.
In 13 games since the All-Star Break, the slugging third baseman is hitting .302 with five home runs and 16 RBI (nicely inflated by an incredible 3 HR, 7 RBI performance on July 20th). In the month of June alone, Ramirez launched nine homers with 25 RBI in 22 contests. If he's available in your league, ignore the .224 season average and unflattering numbers; expect Ramirez to continue to mash for the rest of the season.

Derrick Lee:
Staying with the Cubs theme, let's take a look at Derrick Lee. With just 10 home runs and 36 RBI, and an embarassing .233 average to boot, Derrick Lee looked like father time was creeping up on him in his 14th MLB season at the break. But don't be fooled by these lackluster pre-break numbers. If last season is any indication, Lee is capable of a huge turnaround in the second half. In 2009, Lee hit a combined five home runs in the first two months of the season. From June onwards, he hit six or more longballs and 20 or more RBI in each month that followed, and hit .336 in the second half.
Although he hasn't been getting any more balls over the fence yet (just one homer in the month of July), he's hitting the ball better, raising his average nearly 20 points since July 3rd from .229 to .248. Keep an eye on him; I wouldn't be surprised if he breaks out in August, especially with guys like Ramirez and Soto heating up around him.
Other guys to look out for:
Adam Lind
Aaron Hill
Carlos Lee
Carlos Beltran (just returned from injury)
Brian Roberts (just returned from injury)