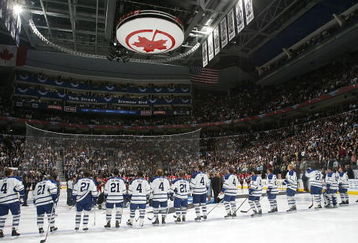 Date: September 22, 2010
Rink: ACC (Toronto)
Puck Drop: 7:00PM ET
Radio: AM 640
TV: TSN
Last night wasn't pretty…and even though it was only game 1 of a 9 game pre-season schedule, lots of fans and media type were all over the Leafs for the loss.  I know they looked brutal but I'm in the camp that you can't judge a team (any team) on the pre-season, let alone game 1.  If you want to judge a team in the pre-season, at least wait until the last few games when the players have some games under their belt and are fielding a starting line-up against the oppositions starting line-up….next week (not tonight or the rest of this week) will be more important.  Remember last years pre-season….the Leafs 6-3 record did not prepare us for the ugly start/season that followed.
Tonight the line-up will be completely different except for Jerry D'Amigo and Jay Rosehill who will get a second straight look-see.  My guess is that they know exactly what they have in Rosehill and simply want to have someone to deal with any shinanigans and not have to rely solely on Orr who will make the team.  As for D'Amigo….still a long shot but they likely want to see if he should be part of the 26/27 that get a second look next week after the cuts.  In net will be what is likely to be the Marlies tandem.
For the Sens….still no Alfresson, Fisher, Spezza or Kovalev. 
Tonights Line Up according to www.mapleleafs.com
Forwards
Kulemin Bozak Kessel
MacArthur Grabovski D'Amigo
Caputi Mithcell Boyce
Rosehill Foster Orr
Defence
Komisarek Mikus
Schenn Beauchemin
Blacker Richmond
Goalie
Scrivens
Reimer
LT