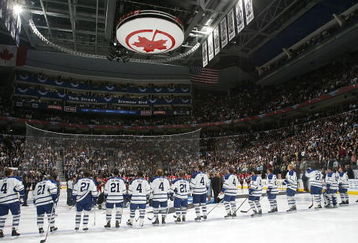 Date: September 27, 2010
Rink: ACC (Toronto)
Puck Drop: 7:00PM ET
Radio: AM 640
TV: Leafs TV (HD)
With only a couple of exceptions (Reimer for Guigere, Caputi for Sjostrom), it looks like tonights line-up is a good bet for the regular season line-up….If Burke carries 22 players, the only battles that remain are for the 7th defenceman and for the 12th and 13th forward spots….The battle for the latter 2 forward spots would be between Caputi, Mitchell and Hanson….My view on Kadri (as if you care) is that a half or full season in the AHL will do him good…as it did for Bozak and others.  It will make him hungry, give him experience playing "with men" and enable him to adjust to his new frame (he added some weight and seems a step slower).
Here is tonights Line Up According to www.mapleleafs.com  
Forward
32 KRIS VERSTEEG 42 TYLER BOZAK  81 PHIL KESSEL
41 NIKOLAI KULEMIN 84 MIKHAIL GRABOVSKI 16 CLARKE MacARTHUR
33 LUCA CAPUTI  37 TIM BRENT  9 COLBY ARMSTRONG
18 MIKE BROWN  20 CHRISTIAN HANSON 28 COLTON ORR
Defence
3 DION PHANEUF  22 FRANCOIS BEAUCHEMIN
15 TOMAS KABERLE 8 MIKE KOMISAREK
2 LUKE SCHENN D  36 CARL GUNNARSSON
Goal
50 JONAS GUSTAVSSON (expected to start and play the entire game)
34 JAMES REIMER
NB: Danny Richmond (D) and Jay Rosehill (F) are both listed on the official line-up sheet and could be inserted after the pre-game skate.
Here is the Sabres Line Up
1 JHONAS ENROTH G
40 PATRICK LALIME G
3 JORDAN LEOPOLD D
4 STEVE MONTADOR D
6 MIKE WEBER D
8 CODY McCORMICK F
9 DEREK ROY F
12 MARK MANCARI F
21 DREW STAFFORD F
24 PAUL BYRON F
25 MIKE GRIER F
27 SHAONE MORRISONN D
28 PAUL GAUSTAD F
29 JASON POMINVILLE F
34 CHRIS BUTLER D
37 MATT ELLIS F
42 NATHAN GERBE F
44 ANDREJ SEKERA D
54 ZACK KASSIAN F
55 JOCHEN HECHT F
63 TYLER ENNIS F
67 DENNIS PERSSON D
LT