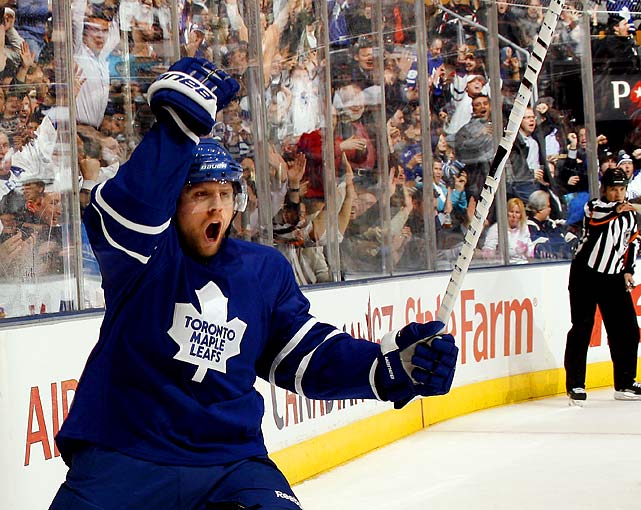 No introduction or anything, gonna go straight at it. Here's the Leafs 2010-11 roster and what you can expect from each and every single one of them:
C, Tyler Bozak
He's their first-line centre and seems to have chemistry with the Leafs best player, Phil Kessel. Is that enough to get him through an 82-game season without struggles? Probably not. He'll have his ups and downs, but 19+ minutes a night will be enough to get him 60 points.
C, Mikhail Grabovski
He has chemistry with Kulemin, which should bode well for his points total as he'll get 50-60 points as well barring injury. If the Leafs aren't in playoff contention come the deadline he will get moved, making room for Kadri in 2011-12.
C, Tim Brent
He kind of came out of no where in pre-season and is a gritty two-way forward. With Armstrong on his wing he'll likely surprise some people with his offensive game, but defense should be his main focus.
C, John Mitchell
Never been a fan and his lacklustre pre-season did not help him convince me to become one. He's not good enough offensively to be a top-six forward or good enough defensively to be a checker. He's lost.
C, Mike Zigomanis
He has experience and that will be useful later in the season, he's gonna be a guy who will get called-up and sent-down regularly. He will give it his all and you can't ask for much more from a fourth-line centre.
W, Kris Versteeg
He hails from the reigning Stanley Cup champion Blackhawks and brings that much needed edge to the Leafs top line. He has an offensive upside no one has seen yet and because of that he will net 25+ goals, scoring from all areas of the ice.
W, Nikolai Kulemin
He was one of the most consistent players of last season, it's good to see him return. He's definitely a threat for 25-30 goals, depending on how much ice time he gets. Dude can skate up and down the ice like no tomorrow, absolutely breath-taking.
W, Fredrik Sjostrom
The most un-talked about piece in the January 31st Calgary deal is going to be essential to this team's success. He constantly moves his feet while on the penalty kill and isn't afraid to block shots. He's exactly the kind of player you want on the third line. He needs to stay healthy.
W, Colton Orr
The sheriff? The bully? The security guard? Call him whatever you want, but he sticks up for his teammates and you need that on a team. Sure, $1 million per season is a bit much for a fourth-liner, but I bet all the players in the dressing room respect him because of what he does for them. Orr 3, Carkner 1.
W, Phil Kessel
Not since the days of Alexander Mogilny have the Leafs had a guy who's able to change the momentum of a game multiple times a night with just the flick of his wrist. Forget about what was given up for him for just a second and be thankful he's here. He's definitely a threat for 40+ goals: a snipe show, enough said.
W, Clarke MacArthur
His pre-season confused me and I don't really know what to expect of him this season. I liked him on the Sabres, but he needs to perform consistently or he'll find himself being replaced with Colby Armstrong. He can score and check a bit as well, but consistency might be a concern. Consider him a Ponikarovsky-lite.
W, Colby Armstrong
Absolutely loved this pick-up as he can put up points and get into the other teams' face. He's an agitator and will definitely deliver the big blow to change the game's momentum. Looks like a kid, plays like a man.
W, Mike Brown
He's got the Wendel 'stache going, who knows for how long. But, he should be what Jamal Mayers rarely was and that's a guy who is constantly disturbing the other team's players. His hits on the fore-check definitely get the crowd in it, hopefully he can keep it up the whole season.
D, Dion Phaneuf
He will, out of the whole team, have the most pressure on him, simply because he's the newly-appointed captain. Will he succeed? Not sure as of yet, but it won't be for a lack of effort. If his blast from the point is working the fans will love him. If not? Look out 'cause we could have another McCabe-like "situation" on our hands (that was totally a Jersey Shore reference, oops).
D, Tomas Kaberle
What's that Tomas? Where did the 'A' on your chest go? Damn that Ron Wilson, damn him. Kaberle deserves better and the fans in Toronto will no doubt get on him if the power play doesn't click in the early going. Why? Who knows, it is Toronto after all. Every team needs a Tomas Kaberle, every team wishes they had one. He's as good as gone at the end of the season, sadly.
D, Mike Komisarek
It seems like every time he's on the ice he's a ticking time bomb. One extra push by the opposition and this guy could flip out, it's why I'm a fan. He's a bit slow to the puck and needs to cut down on the unnecessary roughing penalties, but he should have a good bounce-back year as he's fully healthy.
D, Francois Beauchemin
Like Komisarek last season, he tried to do too much and that was his biggest downfall. Now, with a defense as deep as Toronto's is he won't be relied on for 25 minutes a night. He just needs to play adequate defense and QB the second power play unit and he'll do fine. Play within your limits.
D, Carl Gunnarsson
He should develop into Kaberle's replacement following his departure. He's a good skater and makes a good first pass most of the time. He will see more power play time this season, which means more points. He has a good shot, just needs to be tougher to knock off the puck in the defensive zone and position himself better on the penalty kill.
D, Luke Schenn
He definitely suffered through the "sophomore jinx" through the early part of last season, but his game changed once Phaneuf was brought in. He delivers the big hit and you can tell from the pre-season is much more comfortable handling the puck. He still has great value on the market, but him being the fifth or sixth defenseman for this club just goes to show the depth they have on the back-end.
D, Brett Lebda
This was a great pick-up, but he may not see much action unless one of the top six goes down. Former Detroit Red Wing, need I say more? He'd be a fourth defenseman on many clubs in the league, he can skate, shoot, pass and is adequate defensively. You can't ask for more from a seventh defenseman.
D, Jeff Finger
Who cares?
G, J.S. Giguere
He wears Toskala's former #35, but that's about it in terms of comparisons. He's a proven winner and should be something to Gustavsson that Toskala never was: a mentor. He's the starter right now, but if he goes cold for a couple games he could find himself on the bench. The Leafs success this season may lie in his glove.
G, Jonas Gustavsson
He's the back-up right now, but a lot can happen over the course of a season. He's been pegged as the Leafs goaltender of the future and this is a huge season for him. He showed flashes of dominance at points last season, but he needs to be more consistent with his play. One step towards that: be less active in the crease. Sure, if you lose the puck you have to go all "Hasek," but otherwise stay in control.
There you have it folks. What do you all think about this season's version of the Leafs?
The season's among us, the excitement is flowing through our blue and white veins. It's go time.
Opening night baby, hope reigns supreme.
Follow on Twitter: @gagangandhi
Join on Facebook: Talking Leafs/Raptors