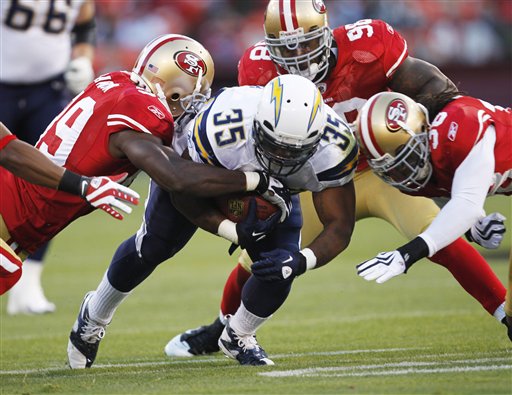 San Francisco 49ers (5-8, 1-5 away) vs San Diego Chargers (7-6, 5-2 home) @ Qualcomm Stadium on Sportsnet, 8:20 PM ET
Line: SD by 10
Total: 45
Reason To Watch: In the preseason this looked like a potential game between Conference leaders, instead both teams are fighting for playoff survival.
While Niners coach Mike Singletary's fate all but sealed in San Fran, Chargers head coach Norv Turner was looking at a long term extension but if he does not win tonight, might be unemployed with the man who hired him, A.J. Smith.
Despite building the number one offense and defense this year, "the Lord of No Rings" Smith has made multiple questionable decisions over the years, but this season having both Marcus McNeil and Vincent Jackson holdout that led to another slow start, paying Darren Sporles big money when they seemed to have three other backs they liked more.
The Niners are still alive at 5-8, QB Alex Smith is coming of one of his best performances in his disappointing career. Smith was 17-27 for 255 yards and three touchdowns for a passer rating of 130.9 (which is good, apparently). To expect this type of performance again would be a stretch. The 49ers constantly shoot themselves in the foot on offense. And that type of football won't work against a good team like the Chargers.
To make matters worse both LBs Takeo Spikes and Patrick Willis are both hurting and are questionable for this game. LT Joe Staley has already been ruled out.