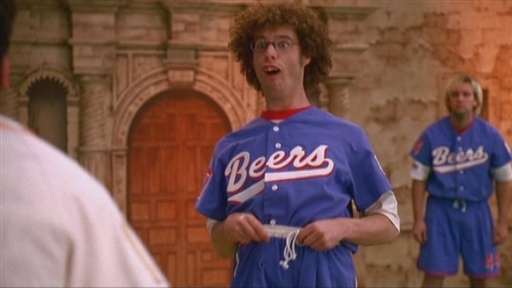 ("You know Reemer, someday I'm going to own a big sports bar.")
Toronto Maple Leafs (18-20-4, 40 pts) vs. Phoenix Coyotes (21-13-9, 51pts) @ Jobing.com Arena on LeafsTV, 9:00 PM ET
Maple Leafs: Reimer (4-1-0, 1.92 GAA)
Coyotes: Bryzgalov (15-8-6, 2.63 GAA)
(according to leftwinglock.com)
Reason to Watch: The Leafs seem like a squad that at the Christmas party, one of the higher ups got a little to drunk and started letting out his true feelings. Toronto is 6-4 in their last 10 games and inching their way back to .500 for the first time since Halloween.
Since replacing Gustavsson, rookie Jimmy Reimer is 4-1-0 with 1.92 GAA. Reimer, has not been getting off easy in his first five starts. In all five starts, the 22 year old from Winnipeg, the opposing team has at least 30 shots or more.
The Maple Leafs current four game winning streak is the longest since the Leafs won five in a row from Jan. 27-Feb. 6, 2007.
Toronto centre Mikhail Grabovski has 12 goals and 18 points in his last 16 games, including his first two-goal game of the season in a 9-3 victory against Atlanta Friday.
Orlando Magic (25-13, 10-8 away) vs. Oklahoma City Thunder (26-13, 14-6 home) @ Ford Center on TSN, 8:00 PM ET
Line: OKC by 1
Total: 203.5
Reason to Watch: While the Orlando Magic have decided to rebuild on the fly this season, the Thunder have been slowly building a contender for a few years now. The Magic are looking to win their 10th win in 11 games and their ninth in their last 10 meeting against the Oklahoma City Thunder.'
The Thunder have won three in a row and currently 6-4 in their last 10 games. OKC center Serge Ibaka is gonna have his hands full when he lines up against Dwight Howard. Ibaka vs. Howard features two of the most phyiscally gifted athletes on the planet. The things these two guys can do, standing close to 7 feet is incredible.
Expect NBA scoring leader Kevin Durant to have a huge night, when he faces Hedo " what's defense?" Turkoglu.