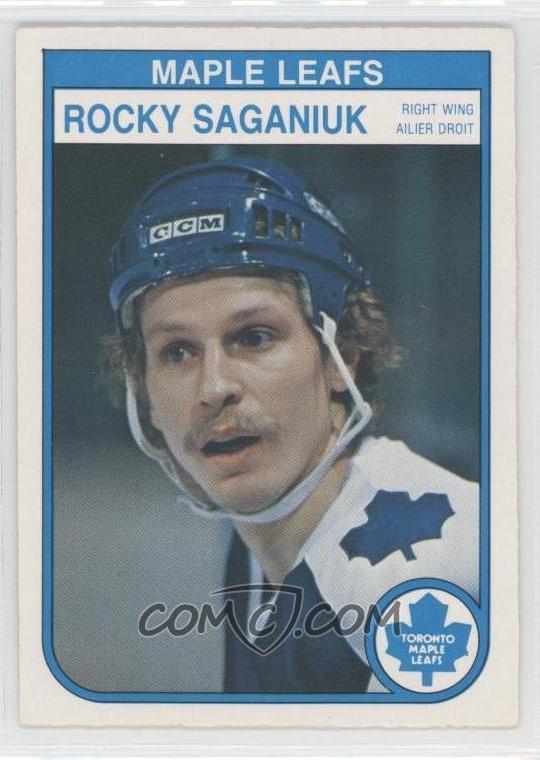 You might have missed it, but thanks to TSM for the shout out from his post late last night. I am a new contributor to Toronto Sports Media, and no, I'm not Rocky Saganiuk, Leaf winger from the early 1980s. When TSM posted that he was looking for some help earlier this month, I jumped at the opportunity, having enjoyed the website for some time.
He suggested I introduce myself to you, so…who am I? Like many of you reading this, I have had little direct association with the media, at least until now. Full disclosure – I studied and attained a diploma in journalism more years ago then I'd like to admit, however I never pursued it, as I carved out a sales career in the consumer packaged goods industry. As a journalism grad, I have always been a newspaper junkie, and there's no better city than Toronto for that. Being on the road much of the time, I enjoy talk radio, particularly sports, warts and all. Like you, I am full of opinion – just ask my first wife, or my second! I recently married again, and fortunately she knew going in that I'm a sports junkie. Frankly, she not only watches a Leaf game with me, but she derives some sick pleasure as I sink deeper into my Leaf Cup Fever psychosis.
Having a partner that gets as much pleasure watching sports as I do is awesome. Unfortunately for her, it comes with having to listen to my occasional rants, which ironically brings me to the lead paragraph of a story I read the other day on the Star website by Richard Griffin. The story begins with, "The legend of Brett Lawrie continues".
Further into the story, Griffin writes,
"Lawrie doubled, slid into second, popped to his feet and emotionally slammed his fist into palm in celebration before then calling timeout. It was an expressive display of accomplishment, but nowhere near the intense show of emotion when he hit a grand slam on Wednesday and became a one-man wrecking crew with teammates' hands and chests down the length of the dugout".
Excuse me, have I missed something? Legend? Does Brett Lawrie have a bust at Cooperstown? He's a had a terrific start, but two weeks is hardly a body of work to pin the word legend on someone. I understand Lawrie comes to the big leagues with high upside, but can we let the kid play a month or two, heck even a full season, without anointing him a legend?
The hype machine malady has afflicted the Toronto media landscape for many years. Player A is called up, the media hype begins, the public buys in, and the player is on the road to becoming overrated. Then the player doesn't live up to the hype, and pseudo GMs start calling in to radio shows with cockamamie trade proposals of Player A (plus the proverbial 3rd round draft pick) for the best player in the league in return. It's as predictable as sunrise and sunset.
With apologies to Rocky Saganiuk above, who was a victim of the Toronto Sports Hype Machine, feel free to share some Toronto players that fell victim to this.
Richard Griffin's story can be found here.