Image Credit: Lori Beckstead, from passthemic.fcad.ryerson.ca
Good morning sports media fans. Apologies for the lack of timely posting. Busy days at the mousetrap factory. Here's a collection of items that have been collecting in my notes app over the last couple of weeks. Please add your own thoughts below.
Hearing Voices
The Athletic finally published an article that has been in the works for several weeks. It's a topic we have covered many many times here at TSM over the last decade. Sean Fitz-Gerald took some time off from asking his friends and colleagues about their favourite cupcakes to tackle the question of why there are so few women on sports radio. You can read the story here. It is good.
Fitz-Gerald and Lisa Dillman tell the story of Michelle Sturino who bounced around sports TV and radio, and was most recently with SIRIUSXM's NHL Network Radio. The piece then delves into a statistic that readers of this site know all too well.
"Women accounted for fewer than 5 percent of voices heard on Canadian sports talk radio last year, according to research from Ryerson University, in Toronto. At Sportsnet 590 The FAN, where Sturino auditioned among dozens of men more than a decade ago, no women work as full-time hosts."
The Athletic received the follow quote from Julie Adam, SVP of TV & Radio at Rogers, in response:
"[The company has] an aggressive plan to increase that representation through regular contributions from female guests, analysts and sportscasters both internally and externally as well as coaching and mentoring promising talent to take on larger roles across our stations."
Here's what the same Julie Adam had to say when the station proudly hired Dean Blundell, jettisoning their highly successful Brady & Walker morning show:
"We know Dean, we know he's a big sports fan, he's very knowledgeable about sports, and we know he likes to talk about sports […] I think he's a smart broadcaster. […] Rogers has a zero tolerance in regards to discrimination, and our track record speaks to that, and we wouldn't have him in if we felt there was going to be any risk to our reputation regarding that. The door at Rogers is always open for very talented high-performers and certainly Dean is a very talented on-air person."
You can read more about how the media world responded to the Blundell hiring back in 2015 here.
My point is that "the company" has for years been in a position to do all the things Adam mentions and has consistently failed to do them. After dumping Blundell in 2017 this the line-up they went with instead.
This is also the network that covered for Gregg Zaun for years while colleagues were complaining about his behaviour on the job.
That being said, there is a new boss in town and Jordan Banks has affirmed his intentions to bring a more progressive culture to Rogers:
We are #ALLIN indeed! https://t.co/3RPGOuFoEO

— Jordan Banks (@Jordan_Banks) October 1, 2020
If you are skeptical that a culture shift is needed, consider this:
One very notable omission in The Athletic piece is the curious case of Ashley Docking. She was the first woman hired to host a show at FAN590 in over a decade. (Was there anyone since Barb DiGiulio? I can't think of one.) And six months later she was gone with barely any mention from her bosses or colleagues. The Athletic piece would have been a lot stronger with the inclusion of her perspective, or that of the people who hired and fired her.
Docking recently appeared on Ryerson's Pass The Mic series, which you can find here.
Listening to Voices
The reaction to the Athletic piece was swift, and predictable. The first volley came from Edmonton TSN1260's Jason Gregor (70k followers):
The tweet has since been deleted, but not before many women in the industry weighed in:
Totally disagree with this statement. They/we may be discouraged for a million different reasons, but women ARE interested.

— Tara Slone (@TaraSlone) October 21, 2020
This type of tired rationale is pervasive in sports media. It's also used to "justify" why BIPOC numbers in the media are so abysmal. https://t.co/Io0H5LuS3f

— Sunaya Sapurji (@sunayas) October 21, 2020
— Andi Petrillo (@AndiPetrillo) October 21, 2020
Earlier, a similar predictable dynamic played out when Dean Blundell retweeted an early October blog post he wrote about hockey reporter Hailey Salvian, accusing her of manufacturing claims of gender discrimination. This led to a series of rejoinders from various media types:
It's the same with the conversations of the last few months about racial diversity in our industry. It's not our place as white men who have benefitted from a lower bar, even if we've worked hard to get there, to dictate whether another group has felt discriminated against.

— Blake Murphy (@BlakeMurphyODC) October 14, 2020
This is beyond ignorant.

— Eric Engels (@EricEngels) October 14, 2020
Hmmm. If "everyone has to deal with this" why did you choose to amplify it and make it a story?

— Britt Ghiroli (@Britt_Ghiroli) October 14, 2020
and also
hey dean
go fuck yourself thanks

— dom at the athletic (@domluszczyszyn) October 14, 2020
Some women who work with/for Dean came to Dean's defense:
Lessons from today.
1) dont make false accusations
2) integrity is key
3) hold the damn door open for others

— Jennifer Chefero (@ShootwAuthority) October 17, 2020
I was working for Dean before my husbands so called "big break". And still would have been qualified to have such conversations did the game not happen.
Funny how I can plug away for the kidney foundation and no one bats an eye but God forbid I mention sports.

— Sarah Ayres (@35Ayres) October 19, 2020
The Gregor tweet and the Blundell blog post provide some insight into how women's successes and failures are perceived by many in the industry. This sums it up pretty well: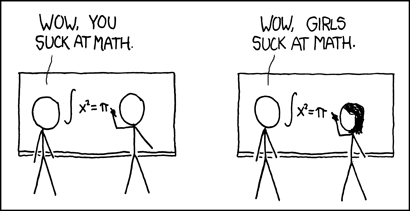 As I have been writing for many years, a big part of this issue is the absolute and relative tiny number of women working in positions that don't involve reading off teleprompters, sitting under glass desks, or providing traffic updates. There are too few women writing opinion columns, hosting radio shows, and speaking on debate panels.
This underrepresentation makes the bar higher for every woman who eventually gets hired to one of these positions. Maybe Docking wasn't your cup of tea but was she that much worse at the job than Ben Ennis or JD Bunkis or any of the other white guys who seem to stick around forever? Why is there always room in the schedule for Roger Lajoie but women can't get a foot in the door, or get longer than 6 months to show their worth?
Blundell's work just underlines how much higher the bar is for women. Their mistakes are a federal case, but his?
like it matters

— Dean Blundell (@ItsDeanBlundell) October 14, 2020
I'll make one more point here: where are the tweets from hockey's most influential voices? Ian Mendes (70k followers) stood up for his colleague:
Come on people. @hailey_salvian is one of the best young writers in the game.

Sens fans should feel very fortunate to have her on the beat. She asks the right questions, with the right tone.

But most importantly, she has treated Sens Twitter with nothing but respect. https://t.co/jl7mi4PkZi

— Ian Mendes (@ian_mendes) October 2, 2020
But where are the tweets from the national insiders with six and seven figure follower counts? Remember that John Shannon claimed he didn't see any sexism during his time in hockey media:
I'm sorry, I can't comment on something I didn't see or hear.

— John Shannon (@JShannonhl) July 20, 2020
You have to try very hard not to see things that are right in front you, and it seems from the silence that many of hockey's elite men are putting in the work. If you can't bother to tweet out a simple statement when others are talking about a pressing social issue within your backyard, then what's the point of having a platform? These are the same people who will eventually claim they can't comment on something they didn't see or hear.
Maybe all the heavyweights are voicing their support privately. This harkens back to something Kayla Grey said a few weeks ago:
Lovingly, here's where I'm at with peers in the dms and pms with the private pats on the back:

If you aren't willing to support BIPOC journalists publicly by checking your people, miss me with it.

— Kayla Grey (@Kayla_Grey) September 20, 2020
Update: Jason Gregor has issued an apology.
3/3… My sincere apologies for my insensitive and hurtful comments and I look forward to being an ally, instead of a deterrent for women who want to enter into a career, or advance their career, in sports radio.

— Jason Gregor (@JasonGregor) October 22, 2020
Quick Hits
Andrew Stoeten was fired from The Athletic last week. Their Jays coverage now lacks someone to provide commentary, with Kaitlyn McGrath largely doing game stories and player features. Their masthead is also slimmer overall than it was a year ago. With $1/month and 40% off subscription offers having been the norm for the last 3 years, cutbacks were not unexpected.
There is a lot of talk about ratings these days, with stories coming out of the US showing that MLB regional viewership is up in many places, including Toronto, but ratings are down overall. The issue is much much worse in the NBA and NHL. "Ratings for the N.B.A. finals were down 49 percent, and the N.H.L.'s Stanley Cup finals were down a whopping 61 percent," per this NY Times story from Kevin Draper.
The Hockey Diversity Alliance cut ties with the NHL recently over a failure to make progress, stating "it is clear that the NHL is not prepared to make any measurable commitments to end systemic racism in hockey." This is on brand for the NHL, sadly, who are run by a commissioner who doubts the science on concussions.
The CFL seems to be spinning its tires since canceling the season. Arash Madani has been tweet-reporting about this, while also showing up on non-Sportsnet outlets to discuss it, as summarized here. He has not written a story for Sportsnet at this time. His last byline was from three months ago.
Low Hanging Fruit
Madani's obvious contempt for Ambrosie remains a constant. I'm not sure why Ambrosie would ever take his calls going forward.
VP Mike Pence says not a day goes by that he doesn't think about every American.

Sounds like the messaging of, "I wake up every day thinking about our players and their families."

— Arash Madani (@ArashMadani) October 8, 2020
People like to hate on Steve Simmons, yet I found this piece to be a fun and interesting behind the scenes look at his relationship with Brian Burke. The latter has taken many shots at Simmons over the years, and it is nice to read a professional response rather than name calling.
That said, there was also this, from his Sunday column: "How can Brian Burke be such a fine father and, at times, such a despicable human being? The way Burke writes about Steve Moore in his recent book, Burke's Law, is enough to turn your stomach. Not a word of sympathy. It's 16 years after the horrible incident that cost Moore his career, and Burke piles on him in the book, apparently sad about what happened to Todd Bertuzzi's career, with not an ounce of empathy for the injured Moore, who he denigrates as a minor leaguer, like that meant it was OK to ruin his life."
Dave Feschuk wrote about the gap between rich and poor on the Leafs' current roster: "Negotiations around the priciest deals on Toronto's salary-cap chart, after all, have been notoriously team discount free. Sure, John Tavares can make the case he took less money than the open market would have provided when he accepted a seven-year deal worth $77 million a couple of summers ago. But the story goes that Tavares did grind the Leafs for an extra million a year or so at the tail end of negotiations — an extra million that would come in awfully handy right about now."
I'm not sure I understand his point: he states that Tavares took less to come here. Doesn't that undermine the premise that the priciest deals didn't involve discounts? It would also have been nice for a citation on that "story" he mentions.
Ryerson and TSN have teamed up on a BIPOC internship program. This is great and much needed. The internship is linked with the network's signature desk show, Jay & Dan, the latter of whom recently returned from a personal leave. One of the major complaints we hear around here is that internships at TSN and Sportsnet largely involve grunt work and getting people coffee rather than learning a craft. It's also a place for network stars to place their kids. It will be interesting to see what this program leads to in terms of meaningful work for these interns.
TSN and Bell were partners with the recently killed Quibi streaming service. TSN hosted something called Sports AM. The show and the partnership were celebrated on the network's viral vertical Bardown. The story is credited to Bardown Staff and is just marketing copy masquerading as news. The "story" somehow manages to get the explanation for the name Quibi wrong.
Best wishes to John Lott in retirement. He was a much needed voice on the Jays beat over the last several years.
---
thanks for reading and commenting,
until next time …
mike (not really in boston)
IMAGE CREDIT: Ryerson University
Editors note:
Added after original post:
by TSM
Several years back I was waiting for my son to finish a skating lesson in Toronto when I got a tap on my shoulder. "Are you the Toronto Sports Media guy?" a familiar voice asked me. I had never been asked that before so it took me a second to answer yes and recognize that the familiar voice was that of former Toronto Maple Leaf player turned broadcaster Nick Kypreos. What I learned from that day forward which is echoed in his new book, "Undrafted: Hockey, Family, and What it Takes to Be a Pro." Nick Kypreos is a good guy with strong family roots and a genuine appreciation for hard work and a recognition for where he came from and who he is. The book is full of great stories that will make any hockey fan of a certain age smile and wince at the same time. What really resonates though is the impact his parents, coaches, teammates, and his wife have all had on Kypreos as he has moved through his journey from tyke hockey player to a peddler of pineapple booze and podcaster. Nick talks about growing up, appreciating what he has, making it to the NHL, and then the challenges of being a non- NHL star thrown into a super competitive role as a broadcaster. Great stories for all to listen to.
Here's Nick on all of this and more:
Brought to you by Bleav and our friends at Jiffy on Demand – use the word SAVE at checkout for $25 off your first Jiffy job 🙂
Listen on all your favorite podcasts or listening services..